Wednesday  December 18th – Annual Xmas Evening , Rhewl Pavilion
Llanynys Playing Field Committee held their second Xmas evening on the 18th of December in the Pavilion. The Choir together with the  Rhewl School Choir and singers from Rhewl Chapel helped to create a very enjoyable evening to start the off the Xmas celebrations in fine style.

Saturday November 30th – Ruthin Square.
The Choir took part in the Ruthin Xmas Market  Evening which was a big success with stalls on the square – which was closed off to Traffic – and the Choir sang from a large LE Jones trailer for three quarters of an hour; we were followed by a lantern procession with local school children carrying lanterns whilst  walking from the Ruthin Gaol carpark up to the Square. The evening finished with a ceremonial turning on of the Christmas lights on the tree located by the clock. With the weather being perfect it was a very enjoyable evening.
Friday, November 15th – Evening – Llanrhaeadr School
Our first visit to near neighbours Llanrhaeadr to help raise funds for their Community Fund was well supported by the villagers. The decades of Summer League football  rivalries, between the two villages, were put to one side with a thoroughly enjoyable evening being had by all. John Thomas (JT) from Cyffylliog, one of the latest recruits to the choir was one of our soloist for the first time.
Friday, November 1st – Evening _ Pentrefoelas Community Hall
This Concert was  held by the Pentrefoelas Community Hall Committee in the local School  and over £200 was raised for the Wales Air Ambulance  Service.  A good number of people turned out on a windy night and from all accounts enjoyed the entertainment. The choir enjoyed a lovely supper after the concert
The local Welsh Community paper – Yr Odyn had the following report in its November edition- Cafwyd noson hynod o dda yng nghwmni Cor Y Porthmyn dan arweniaid Bof Hafodygan ar Nos Wener Tachwedd 1af. Roedd gynulleidfa niferus iawn, gyda phawb yn son wedyn dros baned – cymaint ' roeddwn wedi mwynhau rhaglen more amrywiol gan y Cor. Cymerwyd rhannau unigol gan ambell i aelod  ac hefyd unawd swynol gan Eirlys Hafodygan. Roedd Gwynfor yn siaradwr hwyliog iawn ac ef roedd ein tywys drwy'r caneuon gyda joc yma ac acw!  Diolch yn fawr felly i Bof a'i Gor am adloniant wych, a diolch  o galon i bawb a ddaeth i gefnogi. Roedd  elw y noson yn mynd tuag at Elusen Ambiwlans Awyr Cymru ac rydym yn falch o ddweud bod sieco £200 ar ei ffordd iddynt.
Friday , October 18th – Ruthin Forward – Ruthin Castle
The Ruthin Forward Group  held a fund raising evening at Ruthin Castle  and they raised over £2000 for their funds. This was a repeat engagement for the choir and they  provided the entertainment together with choir member Geraint Woolford.
Friday, October 4th – 100th Birthday Party at Dolwen or Plas Pigot Denbigh
The Choir were delighted to  be invited to Emlyn Davies' 100th  birthday at Dolwen Denbigh. Emlyn lived most of his life in Llandyrnog working as a Milk Lorry driver for many years. He is the father in law of choir stalwart Medwyn Jones.
Friday September 27th –  St Mary's Church Denbigh
This concert was held to raise funds for  Glan Clwyd Hospital Baby Unit  and we are pleased to announce that over £600 was raised for the charity. The choir enjoyed singing in the Church and were  impressed with its acoustics. The local committee had prepared a lovely supper which the Choir thoroughly enjoyed.
Saturday September 14th – Evening – Rhewl Gardening Club Food Festival
The choir made a return visit to the annual food Festival and a very enjoyable evening was had by all.
August 31st –  Gwyl Pen Draw Byd, Aberdaron
Roedd  pawb yn edrych ymlaen i'r achlysur yma – gyda'r mwyafrif yn aros dros y penwythos mewn gwesty, carafan, car, van neu tent.  I wneud y lle yn mwy cartrefol i'r cor roedd na criw o Pwllglas ag hefyd Cerrigydrudion wedi dod drosodd i mwynhau y geithgareddau yng  ngwesty y Ty Gwyn. Roedd y pentref  lan y mor yn edrych yn pictiwr yn y tywydd bendigedig.
Saturday, August 17th – Denbigh Golf club
It was a long day with the choir singing 32 times , however we were delighted to take part in Golf Clubs's President last ritual in that office; he was Mr Llew Davies who is of course choir member Med Jones's Brother-in Law. It was a lovely evening, albeit a bit warm and the Choir, enjoyed some tasty  supper before performing. . Present was Leah Owen who had a massive success with training her choirs, parties  and individuals – she made some of us feel very nervous.
Saturday, August 17th 2013  -Ruthin Flower Show
Below is the text and photo from the Wales On-line website about our concert  at the local Flower Show – what they failed to, comment on was the enthustiastic reception we had from our audience  particularly the young children.
Welsh choir finds itself giving an unusual gig… in a cattle ring
Y Porthmyn, a community choir, had been expecting to perform outdoors but the rain had other ideas.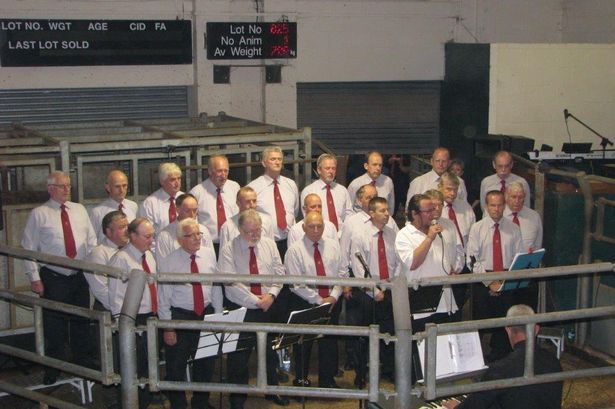 A Welsh choir found itself singing in a very unusual spot – in a cattle ring.Y Porthmyn, a community choir based at The Drovers public house in Rhewl, Denbighshire, were invited to perform at the annual Ruthin Show. But shortly before their performance was due to start, it began to rain. Organisers of the show, at the Ruthin Farmers' Mart site, switched them indoors – and the choir sang in the ring where the cows and bulls are normally sold. Although they are the Drover's choir there is not a drover amongst them. They are made up of roadmen, welders, builders, a coalman and a retired policeman and a retired taxman. "We all thoroughly enjoyed it and all the seats around the ring were taken," said choir founder and musical director Bov Owen.
There was also an  article in the Daily Post about it – thanks Elwyn
Saturday, August 10th – Kinmel Arms Llandyrnog
The choir were happy to accept an invitation from the Kinmel Arms Llandyrnog as part of their Eisteddfod celebrations on the last Saturday night of the the event
Saturday July 6th 2013 – Plas Pigot, Denbigh – Denbigh Buffs
The Choir accepted an invitation from Denbigh Buffs to entertain them following a Ceremonial evening at the Plas Pigott Club in Denbigh. The Buffs are a world wide organisation renown for their fund raising activities for good causes and the Choir were happy to accept the invitation.
Friday May 17th – Pwllglas – Opening of  the new village shop
The Choir were delighted to accept an invitation from the Pwllglas Village Hall Committee to take part in the  Grand Opening of the Village Shop. Bov and Eirlys were raised  in Pwllglas living in the house named Hafod y Gan for a number of years. The choir could be heard singing in the background during live interviews for the S4C TV show – Heno;  Wyn and his van bach are now famous throughout Wales
Saturday, May 18th – Cyffylliog Church :- Proceeds to the Church
A healthy sized audience welcomed back the the choir on their second visit to Cyffylliog Church. The soloists were Geraint Evans, Merfyn Evans, Wyn Jones,  Brian Hughes, Eirlys Jones,  John Jones and a new soloist in Geraint Woolford; the MC was Gwynfor Jones. The choir was able to sing their two new songs – 'Who am I' and 'Cigarettes a Lager a Whisky a Gin' – at these two concerts. The Ladies of the Church provided the choir members and their friends with a wonderful supper at the Red Lion Inn; later they were able to wash down their supper with a plentiful supply of Wrexham Lager and Marstons Pedigree ale which helped them revive their voices for some noisy renditions of their favourite  Hymns and Arias.
Thanks to the Church Committee for their donation to our funds.
Tuesday, March 19th – St Thomas Denbigh
The choir broke new ground with their first concert in Denbigh at St Thomas's Church Vestry on Post Office Lane. The audience were overwhelmed with the size of the choir but by all accounts thoroughly enjoyed the choir's performance. Some very acceptable refreshments were provided by the Church's ladies. Thanks to Vi Hughes for inviting Bov and the choir, Vi has subsequentially passed away – our deepest sympathy go to her family and friends.
Monday, March 18th – Awelon
The Ruthin branch of Merched y Wawr invited the choir to their annual St Davids supper at the Awelon Centre and a very enjoyable evening was had by all. The same repertoire was sung and the same  soloists performed as at Llanfair TH. Once again the choir enjoyed an excellent supper. The evening was a test for the choir with a third of their members being unavailable but they came through with flying colours.
Friday, Monday, March 15th –  Llanfair TH
The choir was invited to take part in a Gwyl Dewi evening by the local Welsh Society at the Village Hall. It was a very pleasant evening with the choir going through their welsh repertoire with soloists Geraint Evans, Merfyn Evans, Eirlys Jones, Wyn Jones and John Jones excelling with the choir. The highlight of the evening was the adjudication of a poetry competition – with the local poets showing their skills in the art of Barddoniaeth.  The choir appreciated the lovely supper provided  by the  local ladies before sampling  liquid refreshments at the local hostelries.
Adroddiad yn Papur Bro – Y Gadlas am y cyngerdd – Dathliad Gwyl Dewi
Cawsom noson ardderchog eleni yng nghwmni Côr y Porthmyn o Rhewl a'r cyffyniau . Gwyn Roberts llywydd y pwyllgor roddodd groeso iddynt ac i'r gynulleidfa luosog ddaeth ynghyd. Wedi ffurfio fel parti bach i godi arian yn lleol, mae'r parti bellach yn gôr a mawr yw y galw am eu gwasanaeth a maent wedi codi arian sylweddol at achosion da. Yr arweinydd yw Erfyl Owen(Bov) un o blant talentog Hafod y Gan. …………..  Campus yn wir.
Dioch i Gwyn Roberts am yrru  darn o ddiolchiadau Robert Douglas i'r Cor ar derfyn ein cyngerdd Gwyl Dewi yn Llanfair Talhaiarn…
"Wel dyma hi unwaith eto'n Wyl Dewi
A ni'n dathlu gwyl ein Nawddsant yn deidi,
Yng nghwmni y Porthmyn, rhai craff ydi rhain –
Community Hall, Llangwm – February 22nd 2013
The Choir enjoyed a lovely evening in Llangwm  – there was a wonderful atmosphere in the Hall and the choir, by all accounts, did their stuff. It was a question of  entering the Lion's Den with the village winning three major national competitions with different choirs. It was particularly difficult for Merfyn Evans and Evan Jones who belong to the current  choir and Tudor Rogers an ex-member. To make it worse for Merfyn, he was the first of our soloist but he held his nerve and sang beautifully to set the standard for the rest of the evening; the other soloists were  Geraint Evans, Hari Owen, Wyn Jones,  Brian Hughes, Eirlys Jones and John Jones; the MC was Gwynfor Jones.  Bethan Smallwood the Musical Director of the the renowned Llangwm Male Voice Choir was extremely generous in her comments at the end of the evening and paid tribute to Bov and his family's  musical talents. The Ladies of the two chapels who organised the evening, prepared a lovely supper for the choir. Most of the choir ended the evening in the newly refurbished White Lion, Cerrig and enjoyed  the atmosphere and of course – the Brains bitter etc.
Erthygl o Papur y Cyfnod, Dydd Gwener Mawrth 1af – Cyngerdd Y Groes a Gellioedd Llangwm         – cyflwynodd Eilir Jones 'Rhengwm, artisiaid newydd inni yn y Gorlan . Cor 'Y Porthmyn' o ardal Rhewl a'r cyffiniau oeddynt a rhoesant noson o ddiddanwch inni. Ffurfwyd y cor hwn tua thair blynedd yn ol gan 'Bof '- sef Erfyl Owen (Hafod y Gan gynt). Cor i gynnal un noson oedd eu bwriad – ond mae'r Porthmyn dal i fynd o nerth i nerth. Cawsom ganddynt raglen amrywiol a diddorol – yr unawdau ar deuawdau gan nifer o'r aelodau a sawl stori ogleisiol gan Gwynfor, yr arweinydd. Roedd rhywbeth at ddawnt  pawb! Diolchwyd iddynt gan Bethan Smallwood cyn iddynt eistedd wrth fyrddau llawn merched Y Groes a Gellioedd.
Gorffwysfa Bowling Club – John Ambrose Theatre February 9th
The choir   took part in a concert at the John Ambrose Theatre,  Brynhyfryd School with Jonathon Davies on Saturday February 9th. Over 200 people attended the event which was a great success, with Jonathon Davies on his first visit to the town, and the choir in excellent form. The evening,  organised by Peggy Howatson, was held to  to raise funds for the Gorffwysfa Bowling Club who are developing a new green at the Llanfwrog Community Centre on Lôn Fawr Ruthin
Mona Tractors – Llysfasi
The choir took part in an evening organised by Mona Tractors at Llysfasi on Thursday 31st of January.
3