Senior Citizens Party 2016
The Football Club together with the School organised a Xmas Party for the Senior Citizens living in the Club's Summer League catchment area.  The excellent food was cooked by Jane Evans and Amanda Nancarrow; Bov, once again provided the musical entertainment and an enoyable evening was had by all.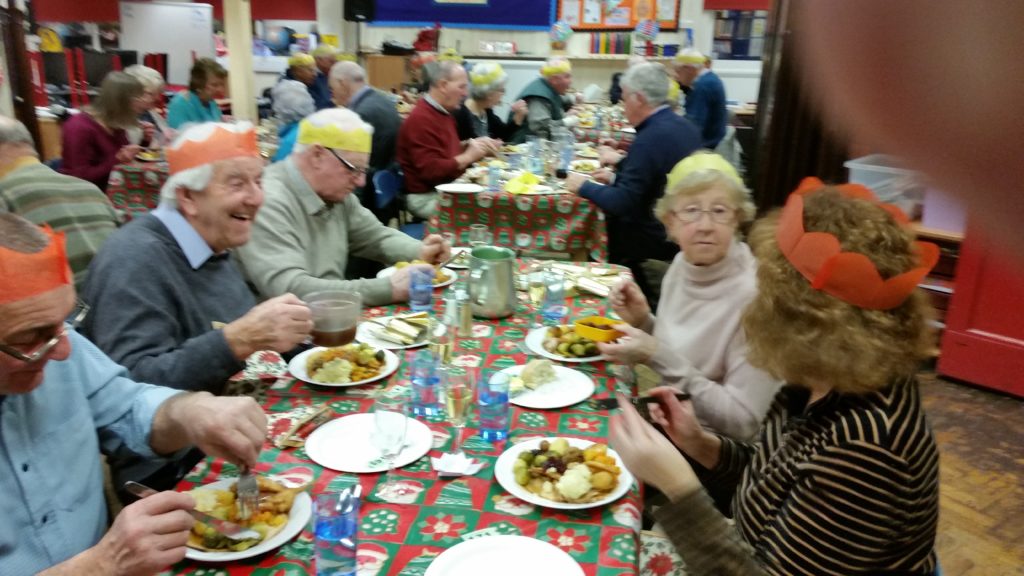 Season 2016
The  season starts with two new managers at the helm namely Sion 'Bernard' Roberts and Chris Shone – both are well known characters in the village and have played for the Rhewl  for many years and who belong to families with long ties with Summer League. Chris 's grandfather Norman Williams was in the Shield winning team in 1947 and his uncle Pip was the goal keeper in the extremely  successful team of the 70's. There are many members of Sion's  family  who were members of successful teams in Rhewl and Llandyrnog.
The season starts Tuesday 2nd May at 7pm with Rhewl playing Llanfair at home.  The League's 2016 Handbook will be out shortly and will be available from club officials
All the  results of the matches below will be located on the League's website www.summerfootball.co.uk
The Rhewl Pavilion is being extended and refurbished however the changing facilities will be open for use
Good start by the team by beating Llanfair by 3 goals to one – Ian Williams scoring a hat-trick
FIXTURES
Tuesday 2 May K.O. 7-00pm
 
Thursday 19 May  K.O. 7-30 pm
Clawddnewydd
v
Llangynhafal
Llanrhaeadr
v
Rhewl
Rhewl
v
Llanfair
Llangynhafal
v
Cefn
Cefn
v
Henllan
Nantglyn
v
Henllan
Caerwys
v
Nantglyn
Llandyrnog
v
Clawddnewydd
Llandyrnog
v
Llanrhaeadr
Llanfair
v
Caerwys
Thursday 5 May  K.O. 7-00pm
 
Monday 23 May K.O. 7-30pm
Llanrhaeadr
v
Clawddnewydd
Nantglyn
v
Llangynhafal
Llanfair
v
Llandyrnog
Rhewl
v
Llandyrnog
Cefn
v
Caerwys
Clawddnewydd
v
Caerwys
Rhewl
v
Nantglyn
Llanfair
v
Cefn
Henllan
v
Llangynhafal
Henllan
v
Llanrhaeadr
Monday  9 May K.O. 7-00 pm
 
Thursday 26  May  K.O. 7-00pm
Clawddnewydd
v
Rhewl
Llangynhafal
v
Llanfair
Llangynhafal
v
Llandyrnog
Caerwys
v
Rhewl
Henllan
v
Llanfair
Cefn
v
Clawddnewydd
Nantglyn
v
Cefn
Llandyrnog
v
Henllan
Llanrhaeadr
v
Caerwys
Llanrhaeadr
v
Nantglyn
Thursday 12 May K.O. 7-00pm
 
Tuesday 31 May   K.O. 7-30pm
Henllan
v
Clawddnewydd
Llanrhaeadr
v
Llangynhafal
Cefn
v
Llanrhaeadr
Rhewl
v
Cefn
Caerwys
v
Llandyrnog
Henllan
v
Caerwys
Rhewl
v
Llangynhafal
Nantglyn
v
Llandyrnog
Llanfair
v
Nantglyn
Clawddnewydd
v
Llanfair
Monday 16 May K.O. 7-30 pm
 
Thursday 2 June  K.O. 7-30pm
Nantglyn
v
Clawddnewydd
Llangynhafal
v
Clawddnewydd
Llanrhaeadr
v
Llanfair
Llanfair
v
Rhewl
Rhewl
v
Henllan
Henllan
v
Cefn
Llandyrnog
v
Cefn
Nantglyn
v
Caerwys
Caerwys
v
Llangynhafal
Llanrhaeadr
v
Llandyrnog
Monday 6 June K.O. 7-30pm
 
Monday 20 June K.O. 7-30pm
Clawddnewydd
v
Llanrhaeadr
Rhewl
v
Llanrhaeadr
Llandyrnog
v
Llanfair
Cefn
v
Llangynhafal
Caerwys
v
Cefn
Henllan
v
Nantglyn
Nantglyn
v
Rhewl
Clawddnewydd
v
Llandyrnog
Llangynhafal
v
Henllan
Caerwys
v
Llanfair
Thursday 9 June  K.O. 7-30pm
 
Thursday 23 June   K.O. 7-30pm
Rhewl
v
Clawddnewydd
Llangynhafal
v
Nantglyn
Llandyrnog
v
Llangynhafal
Llandyrnog
v
Rhewl
Llanfair
v
Henllan
Caerwys
v
Clawddnewydd
Cefn
v
Nantglyn
Cefn
v
Llanfair
Caerwys
v
Llanrhaeadr
Llanrhaeadr
v
Henllan
Monday 13 June K.O. 7-30 pm
 
Monday 27June  K.O. 7-30pm
Clawddnewydd
v
Henllan
Llanfair
v
Llangynhafal
Llanrhaeadr
v
Cefn
Rhewl
v
Caerwys
Llandyrnog
v
Caerwys
Clawddnewydd
v
Cefn
Llangynhafal
v
Rhewl
Henllan
v
Llandyrnog
Nantglyn
v
Llanfair
Nantglyn
v
Llanrhaeadr
Thursday 16 June  K.O. 7-30pm
 
Thursday 30 June   K.O.  7-30pm
Clawddnewydd
v
Nantglyn
Llangynhafal
v
Llanrhaeadr
Llanfair
v
Llanrhaeadr
Cefn
v
Rhewl
Henllan
v
Rhewl
Caerwys
v
Henllan
Cefn
v
Llandyrnog
Llandyrnog
v
Nantglyn
Llangynhafal
v
Caerwys
Llanfair
v
Clawddnewydd
AGM 2016
The 2016  Annual General Meeting was held at the Drovers Arms on February  12th.
The Club Officials elected at the meeting
Chairman – Gareth Williams
Vice Chairman – Ian Hession
Secretary – Cath Humpoletz
Treasurer – T Jones
Monthly Draw Officials – Ian Hession & Cath Humpoletz
Monthly Draw Treasurer- Emyr Hughes
Team Managers – Sion Hilditch Roberts and Chris Shone
The Chair reported on a fairly successful season on the football pitch but  a very successful season financially. Mr Eryl Owen was thanked for his generosity as the main sponsor and all the other sponsors were also thanked namely
Apollo Products
Cennin Cyf
Davey Taxis
Dolben Electrics
Jones & Peckover
Tillwise
Steve Mellor Car Repairs
Tillwise
Richard Williams Building Supplies
Ruthin Motor Factors
Drovers Arms
Clwyd Thomas
Amanda Nancarrow, Cath Humpoletz, Karen Lloyd and Ian Hession were thanked for their efforts in running the Rhewl Cafe on match nights. Ian Hession and John Eryl Hughes were thanked for their work on the pitch  and Cath Humpoletz for laundering the kit also her work as Secretary..
The Club is anxious to sign new players – anyone living in catchment area of the club are allowed to play but they must contact the secretary or Team Manager in the next couple of weeks to enable them to be officially registered by the Summer League.
OAP XMAS DINNER 2015
Rhewl School and Rhewl Football Club held their annual Senior Citizens Xmas Dinner at the School on the third of December. The school cooks provided  an excellent  meal and everyone enjoyed meal which consisted of Soup, Turkey dinner and Trifle followed by coffee and mince pies. Once again Bov provided the entertainment assisted by the talented Geraint Evans.
The criteria for an invitation to the dinner is that  invitees will have attained the National Pensionable age (and their spouse)  and  live in the Rhewl Football Club catchment area.  It is very difficult for the Football Club to know the exact age of all the residents and therefore who to invite, so we will be grateful if you qualify to contact Cath Humpoletz on 01824 704827 or 07785 785493.
Rhewl F.C. Cafe
The Club would like to thank the staff of our excellent Cafe – Amanda Nancarrow, Ian Hession, Cath Humpoletz  and Karen Lloyd for having an excellent season and earning record profits.
Ground Maintenance
The Club would like to thank Ian Hession and John Eryl Hughes for the work in mowing the grass on the pitch.
The Presentation evening was held at the Pavilion on August 3rd 2013 and the club would like thanks Mr  Eryl Owen for his generosity that evening.
Bob Roberts, Clubman of the year was won by Ian Hession
The Richard Thomas Jones, Penalty King competition was won by  Stephen Willsdon
The RJ Roberts, Top Scorer award was won by Stephen Willsdon
The Neil and Annette Lloyd best player award chosen by the Opposition was won by Les Brophy
The Mike Mellor, Supporters Player of the year award was won by Elis Owen
Rhewl FC Committee's Player player of the season was won by the manager – Dion Lloyd
Jack Nelson Lewis's  Player's Player award was won by Les Brophy
Eryl's Young Player of the Year went to Callum Lloyd
The 2012 Senior Citizens Xmas Party
A very successful Xmas party was held in conjunction once again with Rhewl School.    The School Cooks and the Headmistress, once again,prepared a wonderful meal which was enjoyed by all. Many thanks to everyone who helped us that evening – particularly the girls and of course to Bov for providing the entertainment once again.
Season 2012
The season has been a disappointing season for the club finishing 3rd from the bottom of the table and being knocked out of the Shield Competition in the Preliminary Round by Llandyrnog 5-6.
The annual Dinner & Dance at the Pavilion  on the Saturday 1st of September has been cancelled due to lack of support.
Details of how the season has gone so far and details of the fixtures can be obtained on the summer league website www.summerfootball.co.uk
Annual General Meeting 2012
Chairman Mr Gareth Williams reported on a very succesful 2011 Summer League season with the club finishing third in the Championship with a very young team. He also congratulated the Under-16 team for narrowly losing their 7-a-side title. He thanked everyone for their efforts particularly the retiring manager Mr Peter Lloyd, Ms Cath Humpoletz and Ms Amanda Nancarrow. He also reported on another succesful OAP Xmas Dinner and he thanked Brynhyfryd School, Llanynys Community Playing Field Association and, of course, Rhewl School for their co-operation.
The Treasurer and Vice Chairman reported on a very succesful financial year and the Club reaffirmed their obligation to help with funding the extension to the Pavilion. The Club Sponsors were also thanked they were:  Seren Ltd (main sponsor), Apollo Products, Clwyd Thomas-Agricutural Contractor, Cyfrifaduron Cennin, Davey Taxis, Dolben Electrics, Drovers Arms, G Jones(Welding), Jones & Peckover, Lee Jones – Mini Diggers, Lewis Electrics, Meirion Howatson-Plant Hire, Richard Williams Building Supplies, Rob Jones-Ruthin Motor Factors, Selwyn Howatson-Plant Hire, Steven Mellor-Ruthin Body Shop, Tillwise
The Officials appointed for the oncoming season are
Chairman – Gareth Willams, Secretary – Cath Humpoletz, Treasurer – T Jones, Vice Chairman – Ian Hession, 100 Club Administrator – Emyr Hughes, Manager – Anthony  Marshall, Deputy Manager – Mark Lloyd, Catering Executive – Amanda Nancarrow
Senior Citizens Xmas Party, 2011
The club held another successful Xmas Part at Rhewl School on Thursday 15th December. The School Cooks and the Headmistress, once again,prepared a wonderful meal which was enjoyed by all.
The Club  are proud of their record of holding these events since the early seventies.
Club Presentation night
A well attended Club presentation evening was  held at the Drovers Arms last month to celbrate a very succesful season for the team. Chairman Gareth Williams presided over the proceedings and the following awards were presented
Players Player – Geoff Hinchcliffe; Committee's player – Anthony Marshall;                  Supporters Player- Les Brophy; Young Player-Stephen Willsdon; leading goal scorer – Ian Williams  and the Neil Lloyd award voted by the Opposition team was awarded  to Bryn Jones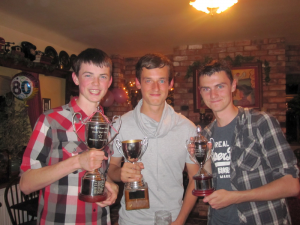 Stephen, Les and Bryn with their trophies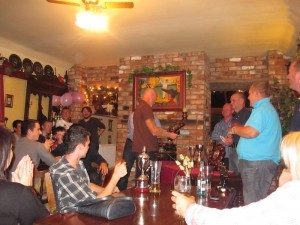 Geoff's presentation
Summer League Junior 7-a-side competition
The Clubs Junior side had a very successful afternoon on Saturday 2nd of July on their home ground and they narrowly lost to their neighbours – Llangynhafal by the single goal scored by Tirion Roberts. The goal was an absoute screamer and out of context with the rest of the game  which Rhewl dominated throughout without looking as if they would score.
The Rhewl team has for the last 5 years reached the final of the competition and 3 of these they have won.
It was a lovely afternoon with a large crowd enjoying the football. The Rhewl Club laid on refreshments and thanks to Amanda, Cath, Gail, Gags and Hesh for all their excellent work.
Come and enjoy Amanda and Cath's bacon butties at the Pavilion Cafe during  matches.
The Season so far
The Club have had a tremendous season so far finishing a excellent  3rd place  in the final league placings; this compares with being 3rd from bottom last year. The acquisition of Anthony Marshall now living in Llanynys has really helped the club and with experienced Geoff Hinchcliffe supporting the youngsters in defence – the club has really improved a tremendous amount. Manager Peter Lloyd must be extremely happy with the final League placing as his  choice was often restricted due to some of his young players  commitments to their School and Winter club fixtures and also School exam; this however gave opportunities to other players particularly the golden oldies.
2011 Fixtures

Thursday June 30th 7:30pm Ysceifiog(away) (3-4) Scorers Ian Williams(2), Anthony Marshall, Hari Owen
Monday June 27th 7:30pm Llandyrnog(home) (4-0) Scorers Geoff Hinchcliffe(2), Steven Willsdon, Anthony Marshall
Thursday June 23rd 7:30pm Nantglyn(home) (1-1) Scorers Steven Willsdon
Monday June 20th 7:30pm Llanrhaeadr(away) (1-1) Scorers
Thursday June 16th 7:30pm Cefn(home)(3-3) Scorers
Monday June 13th 7:30pm Caerwys(away) (3-3) Scorers Steven Willsdon(2), Phil Roberts
Thursday June 9th 7:30pm Henllan(home)(4-3) Scorers Lewis Isaac, Phil Roberts, Rob Thomas, Steven Willsdon
Thursday June 2nd 7:30pm Clawddnewydd(home)(10-1) Scorers Martin Jones(3), Rob Thomas(2), Ian Williams(20, Steve Willsdon, Geoff Hinchcliffe, Dion Lloyd
Tuesday 31st May 7:30pm  Llanfairl(home)(3-0) Scorers Lewis Issacc, Anthony Marshall, Hari Owen
Thursday 26th May 7:30pm Llangynhafal(away)(4-2) Scorers Ian Williams, Dan McClean
Monday 23rd May 7:30pm Ysceifiog (home)(3-3) Scorers Rob Thomas, Martin Jones,Anthony Marshall
Thursday 19th May 7:30pm Llandyrnog (away)(2-1) Scorer Geoff Hinchcliffe
Monday 16th May 7:30pm Nantglyn (away) (3-3) Scorers Anthony Marshall, Ian Williams, Rob Thomas
Thursday 12th May 7:00pm  Llanrhaeadr – cancelled
Monday 9th May 7:00pm Cefn away lost 3-4 Scorers Martin Jones(2) Hari Owen
Thursday 5th May 7:00pm Caerwys home won (3-2) Scorers Rob Thomas(2), Endaf Jones
Tuesday 3rd May 7:00pm Henllan away 1-1 Scorer Anthony Marshall
Tuesday 26th April 6:45pm Clawddnewydd away( won 6-2) Scorers Ian Williams(5) Dan McClean
Thursday 21st April Llanfair away (1-1) Scorer Hari Owen
Monday 18th April Llangynhafal home (2-1) Scorers Hari Owen, Ian Williams
Welsh Secondary Schools Under-18 Final  2011
Brynhyfryd School reached the final which was played at the TNS stadium, Oswestry on Saturday 14th. Their opponents were Whitchurch High Cardiff and unfortunately they lost 2-1. However the general opinion after that match was that they were very unlucky to lose. Playing for the team were Lewis Issac – Tai, Newydd Llanynys, Iolo Hughes Bro Clywedog, Josh Davies grandson of Gareth and Hazel Roberts, Hendrerwydd and Ifan Hafal grandson of Gwynedd and Megan Jones, Ruthin