Croeso i wefan gymunedol Llanynys a Rhewl
Welcome to the Llanynys and Rhewl Community web site
 GRAND RE-OPENING
I am sure you have noticed that the Pavilion on our Playing Field is looking good. The Kitchen and Bar Equipment are currently being installed as well as  toilet fittings.
Two dates  for your diary – a pavilion re-opening party is taking is taking place on Saturday night  29th October and the official opening is taking place on Friday November 4th at 2pm 
A letter has been sent to all the households in the villages within the Llanynys  Community council area – explaining what is happening – please read it and  respond to our plea for a donation  – each new chair will cost £20 and we also  want to buy new tables and blinds. The Committee are keen to replace the old plastic chairs and sofas with new comfortable fabric stacking chairs, new tables and colour matching blinds. Our aim is to provide the village with a beautiful building which we can all be proud of. PLEASE HELP US.
 If you are coming to our Opening Party please let us know for catering purposes, and of course, if you can, please help the Committee on the Financial side – no matter how small. It has been incredible how many people have donated  and the Committee are very thankful to them all – their plea to the rest is -PLEASE HELP US 
Côr y Porthmyn have agreed to donate a sum of £500 to the 'Chair' Fund.
Other Pavilion News
A brand new modern kitchen with utensils and crockery is being installed as well as a lock up fitted bar with glasses and stock.
New toilets are being installed  including a disabled one and a larger Female toilet. There is a new lobby leading from the front door to the centre of the building
The new floor is  finished and looks marvellous and we are on schedule to complete the refurbishment on time.
The groundwork around the Pavilion is well on the way and will be finished by the Opening Party. The external lighting is in place and  much improved.
It is planned to have Broadband and WI-FI connections in the next few weeks.
 It was nice to see the railings on the Station Road side of the Playing Field getting a coat of paint recently – thanks to Ian and the girls for the good work
DEFIBRILLATOR FOR RHEWL
Congratulations and thanks to our Local County Councillor Merfyn Parry and his pal Huw Williams for completing the cycle run from Rhyl to Liverpool raise funds for a defibrillator for the village of  Rhewl , please donate through the justgiving link below or give your donation to Huw or Merfyn  thanks for your support.
https://crowdfunding.justgiving.com/Merfynandhuwon-bikes
Illness
We would like to wish brothers Ifor and Clwyd Thomas speedy recoveries  following an operation and illness respectively. Clwyd is back home after being in Hospital for more treatment whilst Ifor is  also glad  to be back home after a knee operation – we hope the Drovers Arms dominoes team can survive without them
New Zealand
Mr & Mrs Tony Cash are back in Rhewl having a holiday in Tyddyn Isaf and are busy meeting old friends and, of course,their family. They used to live in Telpyn before returning to their native New Zealand a number of years ago. They now live in the beautiful seaside town of Tauranga, North Island.
One has to say that Tony has not lost his sense of humour or his memory of his time living in Telpyn – ask him about losing his false teeth by Rhewl Shop!!!!
Charity Bike Ride
To celebrate her 50th birthday – Iona Jones is doing a Charity Bike Ride for raising funds for the Elen/Welsh Air Ambulance cause. She intends to carry out this mammoth event on September 25th and as she is the The Porthmyn's Choir's Treasurer they have opened the batting with a £100 donation. Please  support this excellent service.
RHEWL FC
RHEWL F.C. MONTHLY DRAW
October 2016 – £100 winner was John Roberts, Sugar Plum
September 2016 – £100 winner was Claire Roberts, Llandyrnog
August 2016 – £100 winner was Hilda Lewis, Rhewl
July 2016 – £100 winner was Wyn Thomas, Ruthin
June 2016 – £100 winner was Geraint Thomas Ruthin
May 2016 – £100 winner was Dylan 'Taff' Ruthin
April 2016 – After Choir practice the monthly Draw was held and Bov was asked to pull out the winning ball from the bag – guess whose ball it was? – his own
£100 winner was Bov
March 2016 – £100 winner was Dylan Clywedog
February 2016 – £100 winner was Tom Coley
January 2016 – £100 winner was Mark Lloyd
December 2015 –  £100 winner was Hilda Lewis
November 2015 – £100 winner was Hilda Lewis
October 2015 – £100 winner was Enid Jones
September 2015 – £100 winner was Claire Roberts Llandyrnog
August 2015 – £100 winner was Steven Mellor
July 2015 – £100 winner was Trebor Hughes
June 2015 – £100 winner was Mrs Hilda Lewis
May 2015 – £100 winner was Cath Humpoletz
April 2015 – £100 winner was Di Thomas
March 2015 – £100 winner was Ray Griffiths, Gwyl y Foel, Rhewl
February 2015 – £100 winner was Dylan Jones Clywedog Rhewl
January 2015– £100 winner was Mrs Norma Norris 6 Bro Clwyd
Anyone wishing to join this Draw please see Ian Hession or Cath Humpoletz
Another  Summer League season has finished and the  results can be found on www.summerfootball.com
CHANGING FACE OF RHEWL
Councillor Merfyn Parry took a few photos of the current developments in Rhewl and put them on facebook recently
The Church Field
 The Rhydybill Extension
The Hafodynys Field development
 
The Pavilion
 
 GWILYM JONES
Sad to hear of the passing away of Gwilym who was a Rhewl man through and through. He was stalwart of Rhewl church and a large congregation had assembled in the Chapel for his funeral service which was conducted by Rev. Russell Owen, Telpyn Forge.
XMAS CONCERT, 2015
The annual Xmas evening was held at the Pavilion on Wednesday December 16th. The evening was arranged by Rhewl School, Llanynys Playing Field Committee and Côr Y Porthmyn. It was a lovely evening and a good start to our Xmas festivities.
SENIOR CITIZENS XMAS MEAL 2015
Once again Rhewl School and Rhewl Football Club held a Senior Citizens Xmas dinner. An excellent  meal was prepared by Rhewl School cooks and those who attended enjoyed a lovely evening. Thanks to Bov, once again, providing the entertainment.
HELP BEAT CANCER
Well done to Ysgol Rhewl for hosting a special event on Rhewl Playing Field on Thursday 24th September 2015, as part of Race for Life's schools programme.
Around 50 youngsters, aged from 5 to 11 years old, took part together  with their  parents, teachers and school governors, to raise funds for Cancer Research UK's life-saving work.
Great North Run
Congratulation to Llion Davies for completing the Great North Run in a very commendable time of 2hrs 27min 03 secs  for a first timer. He was running to raise funds for that worthy cause –  Cancer Research. The Porthmyn Choir donated a £100 to his cause.
Unfortunately Llion did not get to the winners rostrum on merit on this occasion but maybe next time.
Brenda Roberts – Gold Medal at World Transplant Games
Rhewl residents from the dim and distant past will be delighted with the news that Brenda Roberts has won a gold medal at the World Transplant Games in Argentina recently. Brenda qualified to take part  in this 13-sports tournament by having a liver transplant in 2012 – which saved her life – and then succesfully taking part in British Transplant Games. Brenda won a Golfing Gold Medal for the best gross score by a female golfer and furthermore  a bronze medal in the pairs competition.
Brenda was the daughter of Gomer and  Millie Roberts of Rhoslyn,  Bro Clwyd Rhewl and came from a sporting family with father Gomer, in his day, being the "Stanley Mathews" of the Summer League and  grand father Bob the Grange, Uncle Owen, Cousins Mark and Kevin being very able footballers and of course Wendy who like her sister was an excellent all-round sportswoman.
CAPEL MC y Rhewl
Plant o Capeli Rhewl, Bontuchel a Cyffylliog  wrth eu boddau yng Gymanfa  Deithiol
Llanynys Playing Field AGM
The Annual General Meeting of the Llanynys Community Playing Field Association was held on Wednesday 20th May in the Pavilion.
The Officials elected are :-   Ian Hession – Chairman; Gareth Williams – Vice Chairman;  Michael Denman – Secretary and Ellis Ashton – Treasurer.
The Officials reported on the previous 12 months and were hopeful that work would begin on the new gate and the extensions to the Pavilion  fairly shortly.
The meeting agreed to have 2 sub-groups to manage the work
(i) The Building Group – made up  of the officials + the co-opted members
(ii) The Fund raising Group
The Officials were anxious to get as many people involved as possible in the project so that progress could be make quickly to complete  the job
Cheese and Wine Evening
A Cheese and Wine evening was held  to enable the Officials to outline the plans for Pavilion and Field. It was also agreed to invite experienced locals in the Building Trade on to the Committee to help the Officials with the work.
Entrepreneurs
It is nice to hear of  entrepreneurs with local connections making their mark in this world
Bryn Williams is  the head chef and sole proprietor of Odette's Restaurant, Primrose Hill, London. He shot to fame in 2006 by beating established and well-known chefs to cook the fish course for the Queen's 80th birthday celebrations on the television programme  Great British Menu He is now widely regarded as one of Wales' best chefs and one of Britain's new crop of "celebrity" chefs. He is now undertaking an ambitious plan to open a bistro at a multi-million pounds water sports centre on Colwyn Bay promenade.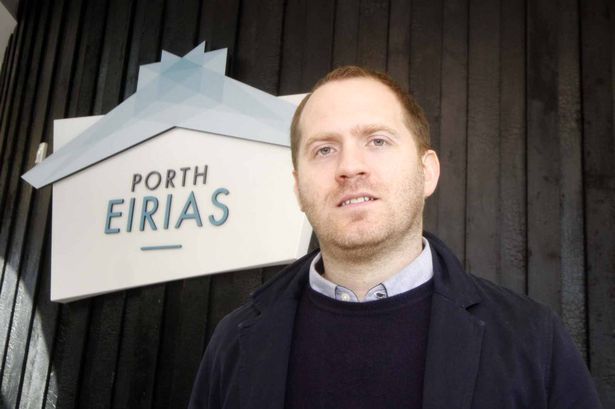 Bryn is the son of Gwenda Williams who was brought up in The Grove and who now lives in Denbigh
Adam Williams Managing Director at Tir Prince Raceway
Llandudno Pier, famed for its Victorian and Edwardian elegance, has been sold to Tir Prince leisure boss Adam Williams who has vowed to invest to ensure the pier has a bright future.
Adam is the son of Norah Williams who was brought up in the Golflinks Farm and went to Rhewl School. He is also a member of the Williams Family who had a major contribution in the development of Rhyl as a major seaside resort in the fifties and sixties. His father Billy was the prime mover in the development of the Tir Prince raceway.
Just to show that often entrepreneurship runs in families – Adam and Bryn are second cousins
——————————————————————-
Rhewl Gardening Club
The Gardening club is now well established and if you are interested please contact Mrs Jean Wallis (703954). Please click on the Gardening Option within the clubs link on the top menu to peruse the 2015 programme of events
——————————————————————————————————-
RHEWL SCHOOL'S CHRISTMAS EVENING
Rhewl School held a festive Christmas Evening in the Pavilion on Wednesday, December 10th. It was a lovely evening beginning with  headmistress Sian Hilton welcoming  everyone. Entertainment was provided by pupils of the School, the Denbighshire Training Band, Denbighshire County Band  and the Porthmyn Choir. Mr John Powell the charismatic leader of the two bands introduced the choirs explaining that the Training Band playing that evening drew on pupils from six local Primary Schools whilst the County Band drew members from further affield and where one of the best bands in the UK doing extremely well in Competitions all over the country. We would like to congratulate John and Heather Powell for the excellent work that the do for music in the region and of course the members of the two bands for providing such an excellent show..
The Pavilion was packed out for the evening with the school being used as an overspill for the bands – the extension to the Pavilion is badly needed for such an event.
—————————————————————————————-
YSGOL RHEWL SCHOOL
Rebecca Cutmore's exciting Time
Last September Rebecca joined the YWAM – Next Wave to do her Discipleship Training School (DTS) She applied last minute and to her delight and surprise she got accepted. We had two weeks to prepare for her departure, which was a day before her 18th birthday! Her journey started at Birkenhead where the ship was docked and they set sail a month later. They went down to Falmouth to get four new sails then they sailed to France, Portugal, Spain, Gibraltar and then on to Malta. The journey wasn't an easy one as they faced storms and up to 4m high waves. Fortunately Rebecca discovered she wasn't sea sick and took to the sailing fairly quickly and effortlessly. Each person took their turn in helming the ship, on a 4hour watch and 12 hours off. Rebecca adapted to her new life on the sea and immediately fell in love with her floating home as she calls it. They spent Christmas in Malta where the lecture phase of the school came to an end. On boxing day they went to Greece on their outreach phase. She is at present in Malta
Here are some of the things that Rebecca did­ in her own words
Feeding the homeless
So  I was a part of the group that went around giving food parcels to the homeless on New Year's Eve. This man who was lying in a doorway under a thin blanket was very frightened of us at first and was hiding. But when we approached him with the food he came out from under his blanket. We handed him a parcel and said Happy New Year and he very gratefully accepted. After we had. walked away, we really felt we had to go back to him, so we did and gave him 3 more! He was so appreciative and bewildered! Seeing him tearing into the parcel not able to wait for his food made myday. We had been able to bless him in a practical way. We had a short conversation with him then left. It was great to bless and love people in a practical way like this.
Sunday School
On Sunday mornings a few of us help out with Sunday school in the church we are staying with!). We go to the little room upstairs (where the boys sleep!) And play games, draw pictures and have a lot of fun! The kids are adorable, and many of us have become fast friends!
Outreach/Evangelism
On a particular  Friday in Thessaloniki we made a board with a mirror and set it up in the middle of the city square. We asked people to take a look in the mirror, and ask themselves the question 'Who are you?' When we asked people what they thought Thessaloniki needed the last week, a common answer was that Thessaloniki needs people who know who they are. We wanted to ask this question to get people thinking about their identity.
Something else exiting we are doing here is supporting a new organisation that has just started! It is called Hope Spot. They run every Saturday to provide a free fun space for youth to hang out at and play games like ping pong, uno, jungle speed, scrabble etc! A team of 5 of us go each time to help out
The Porthmyn Choir being impressed with what Rebecca has done agreed to donate a £100 towards her costs of venturing on such a adventure. More  good news is that YWAM have offered her a permanent job on the ship she sailed on.
This Web Page
Anyone from Llanynys Community area wishing to include items for this website please contact Amanda (07810 516505) or Tudor(07971 193656)
CALENDAR
A calendar of events in the village is now displaying to the right of this screen and all the dates in yellow mean that there is an event being held in the village on that day – moving your mouse over any yellow square will give a brief description  of what is being held.
If you select the 'Cor Y Porthmyn' option on the above line menu – you can hear the choir singing a couple of songs from the Llanfwrog Church concert on YouTube.
There is a new tab on the above options – History – have a look – interesting piece about a important battle between Welsh Princes in 1118 in the Rhewl station area
If anyone wants to include an item or a photo in this website please email to rhewlpf@gmail.com
If you want to book the pavilion or include an entry in the Calendar please contact Amanda Nancarrow (a_nancarrow@hotmail.com)