Croeso i wefan gymunedol Llanynys a Rhewl
Welcome to the Llanynys and Rhewl Community web site
RAISING FUNDS FOR THE URDD NATIONAL EISTEDDFOD AT DENBIGH
A small Committee has been formed under the Chairmanship of Mrs Meinir Jones Maesanod and they have organised two concerts at the Pavilion to raise funds
Click on the links below to show details of the two concerts
The first concert is by Alejandro Jones from the Welsh colony in Patagonia, South Argentina. This is his final gig of a Grand Tour of Wales and it is organised for September 14th at 7pm at the Rhewl Pavilion. He did spend some time in his youth working in Llysfasi and anyone who has heard him will confirm what a lovely tenor voice he possesses.
The Second concert is by the Porthmyn Choir on Friday, September 21st at 7pm – the choir earned rave reviews following their performances at Ruthin's Presbyterian Church and the Ruthin Flower Show; they look forward to singing on their own patch in the Pavilion
 Party in the Park
The Playing Field Committee would like to thank all the helpers and, of course, all the families who attended our Party in the Park on Saturday September 2nd  to raise money for the Playing Field and  Pavilion. Luckily the weather was clement  and the Committee was  satisfied that a good time was had by all.
SUMMER  LEAGUE KNOCKOUT SHIELD FINAL
Henllan beat Llanfair by 4 goals to nil at the Rhewl Playing Field; this victory earned them the double for the first time in their eighty six year history having already won the 2017 League championship. A crowd of over 600  enjoyed the performance of the outstanding Henllan team. A BBC sports News crew where there to record the event. The League vice Chairman – John Eryl Hughes, Glan Clywedog was there to welcome the BBC and later  presented the teams with their trophies.
BRENDA WINS THE GOLD MEDAL at World Transplant Games
Rhewl residents from the dim and distant past will be delighted with the news that Brenda Roberts has won another gold medal at a World Transplant Games this time in Spain to follow her success in Argentina at the last Games. Brenda qualified to take part  in these Games by having a liver transplant in 2012 – which saved her life.
Brenda was the daughter of Gomer and  Millie Roberts of Rhoslyn,  Bro Clwyd Rhewl and came from a sporting family with father Gomer, in his day, being the "Stanley Mathews" of the Summer League and  grand father Bob the Grange, Uncle Owen, Cousins Mark and Kevin being very able footballers and of course sister Wendy and Auntie Lynn who were excellent all-round sportswomen.
Brenda now lives in Ruthin and  is a keen member of Ruthin-Pwllglas Golf Club, and plays off a handicap of ten.
************************************************************************************
 OBITUARIES
Edwin Roberts
With sadness we report the death of Edwin Roberts (Ted Gables) who was brought up in Rhewl  and whose daughter Sharon, Son in law Wyn and grandaughter  Olivia live in the Ysgoldy across the road to Rhewl School. Ted was a very good footballer and played in the successful Rhewl F.C. team of the late 60's and early 70's.  He was instrumental in reforming the football team in 1966 when they rejoined the summer League after a break of 3 seasons.
Our condolences go out to his children and their partners – Chris and Julie, Dai and Jo, Sarah and Gareth, Sharon and Wyn and also his grandchildren – Ffion, Sion, Tom, Emily, Olivia and  the rest of his family.
The Funeral Service is to be held in St. Marcella's Church Denbigh at 11a.m on Wednesday January 10th, 2018. Donations to the Marie Curie Cancer Care Fund.
William Hefin Hilditch Roberts
Very sad to report the death of Hefin – he was brought up in Llanynys, attended Rhewl School, Brynhyfryd School and the Cardiff College of Further Education. For many years he was the Senior Sports Master at the Winsford Verdin Grammar School where he met his wife-to-be Carol.
He was a stand-out character being well over 6 foot tall, a fine physique and a mop of ginger hair. Even though he lived in Cheshire most of his working life he was always glad to meet Welshmen to practice his native language.
He was an outstanding sportsman – Cross Country Champion, Excellent High Jumper, County Hammer Throwing Champion, Welsh Schools Hockey goalkeeper, A highly qualified Football Referee and in his youth  an outstanding goalkeeper who always wanted to play  Centre Forward as he did for the very successful Rhewl Football team of the late 60s and early 70s.
Our condolences go out to his brother Gareth and family and the family of his late sister Owena and of course his wife Carol and her family.
RIP
Piece from the Northwich Guardian about Hefin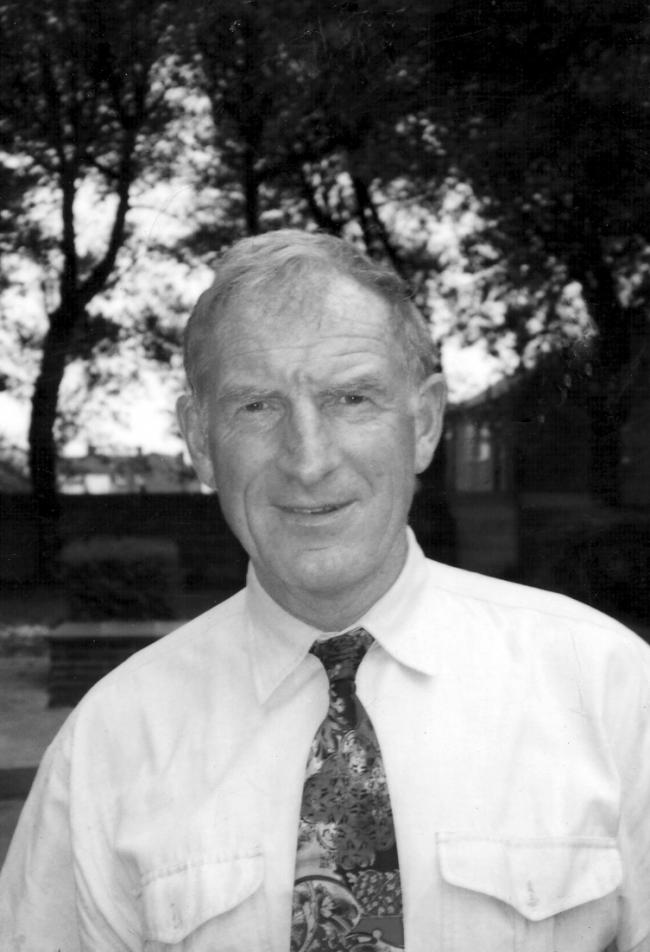 TRIBUTES have poured in for one-of-a-kind Hefin Roberts – a well-known teacher, sportsman and referee.
Hefin, who lived in Moulton, died last week at the age of 73 after suffering a stroke, and the Guardian has been inundated with tributes to the larger-than-life character.
Hefin worked at Verdin Comprehensive School in Winsford as a biology and PE teacher from 1968, before becoming a special education teacher at Broadwalk in Salford, but was also well-known for his involvement in sport.
He played for Middlewich Athletic Football Club as a centre forward before joining Middlewich Cricket Club as a fast bowler.
Dave Parry, now chairman of Middlewich Cricket Club, knew Hefin as a teacher and a teammate and said despite Hefin not being seen at the club for some time, stories of his jokes and antics are still told on a regular basis.
Dave said: "He threw his heart and soul into everything he did and was so very popular with everybody. Everybody loved him and enjoyed his company.
"One of his tricks was to keep pouring shampoo onto your head in the shower without you knowing, when you're trying to wash it off, and that was the kind of person he was – he had a great sense of humour.
"On behalf of the cricket club we extend our deepest condolences to his family and friends. He was an extremely popular member of the club and will be deeply missed by everybody here."
Hefin was also a referee for amateur football around Cheshire and was the chairman of Cheshire Schools Football Association for 14 years, as well as being the CSFA Competitions Secretary responsible for collating scores in all cup competitions.
From 1985 until about 2010 he was also secretary of Mid Cheshire Schools FA, now known as Vale Royal Schools FA.
John Clark, Honorary Secretary of Cheshire Schools Football Association, said: "He was a tireless worker for schools' football and took on a multitude of tasks including securing venues for finals, arranging referees, securing sponsorship, running raffles, attending county matches across the North of England, making speeches at finals, chairing meetings, helping in the changing rooms, organising post-match refreshments, and all this on a purely voluntary basis.
"He was a true unsung hero whose commitment was second to none and who was always passionate about schools' football.
"He was absolutely, totally committed to schools' football and loved his job. We used to run a competition against German teams and when they came over here, Hefin would open up his home in Moulton to the Germans."
Many other tributes have been made to Hefin, with Middlewich High School teacher Keith Simpson describing him as a 'larger than life character whose smile lit up a room'.
Mr Power, head teacher of Fallibroome Academy in Macclesfield said: "Hefin was always so helpful – we are sure that so many people will be grateful for everything he has done for schools' football in Cheshire."
****************************************
Thanks to all those families who turned out to support our inaugural outdoor 'Party in the Park' The weather was not favourable but many came along to support the School and the Rhewl Pavilion
 Gardening Club
To load the 2017 Diary of Talks and Activities  for the Rhewl Gardening Club please move your mouse pointer to the Clubs option on the horizontal menu of options and then click on the Gardening  Club option. This takes you to the Gardening Club page – then Click on  the "Diary of talks and Gardening Club Activities" link in the middle of the screen and also click on the similar link on the second screen which takes you into the PDF document  containing  the Gardening Club diary.
It is possible to print this document clicking on the right hand button of your mouse and selecting the print option with left hand button of the mouse
(To return to this WELCOME page back from the PDF document click on the LEFT ARROW  at the Top Left of the screen  THREE times).
 Another fantastic Concert at the Pavilion on Sunday May 14th
Another in the series of concerts organised by Elfin Bow – it was a great afternoon with Elfin Bow in fine form and also Lowri Evans and Lee Evans producing a wonderful performance.   Lowri and Lee are participating in a Grand tour of the British Isles  and taking part in a number of concerts. All those who attended agreed that it was a great show.
The next  in this series of Sunday concerts is on June 18th with Jim Baxley, July 9th with Ange Hardy, September 24th  with Dan Frechette and Laurel Thonsen(USA) and on October 22nd Elfin Bow with her full band. 
Rhewl's own Defibrillator
Definition – an apparatus used to control heart fibrillation by application of an electric current to the chest wall or heart.
Thanks to the efforts of Merfyn Parry, his mate Huw Williams and all the contributors to the fund to help acquire a defibrillator for Rhewl – the village now has one – it is located on the  kitchen wall of the Drovers  in the car park.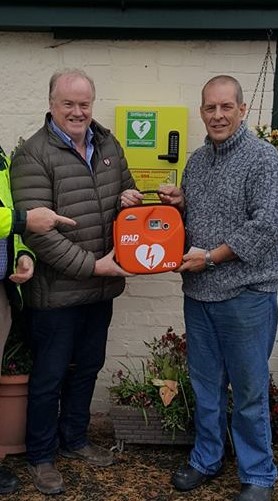 Merfyn Parry handing the defibrillator to  Rob Strang of the Drovers
Possibly the following  description of the work done by First Responders in Wales will help understand how potentially live saving these devices are :-
When a patient faces a serious emergency, every second counts for them and a simple helping hand from a Community First Responder can make a vital difference to their lives.

First Responders in Wales are volunteers who donate their spare time to attend appropriate 999 calls and provide first hand emergency care to people in their own community.

When a 999 call is made, First Responders are alerted by WAST's three control centres and are sent to certain types of calls the same time as an ambulance so they can provide essential care until the vehicle reaches the scene.

The volunteers are trained by the Welsh Ambulance Service to administer basic first aid skills, oxygen therapy, cardiopulmonary resuscitation and the use of a defibrillator.
Pavilion Courses

FABULOUS CONCERT AT THE PAVILION
Thanks to Elfin Bow and friends for the fantastic concert in Pavilion on Sunday afternoon. There were many talents on display and everyone present enjoyed the atmosphere and the music. It was also great to see young Archie performing, obviously he's a real future talent. We've already penciled in another event for early March, we'll post more information about this when we've finalised the details.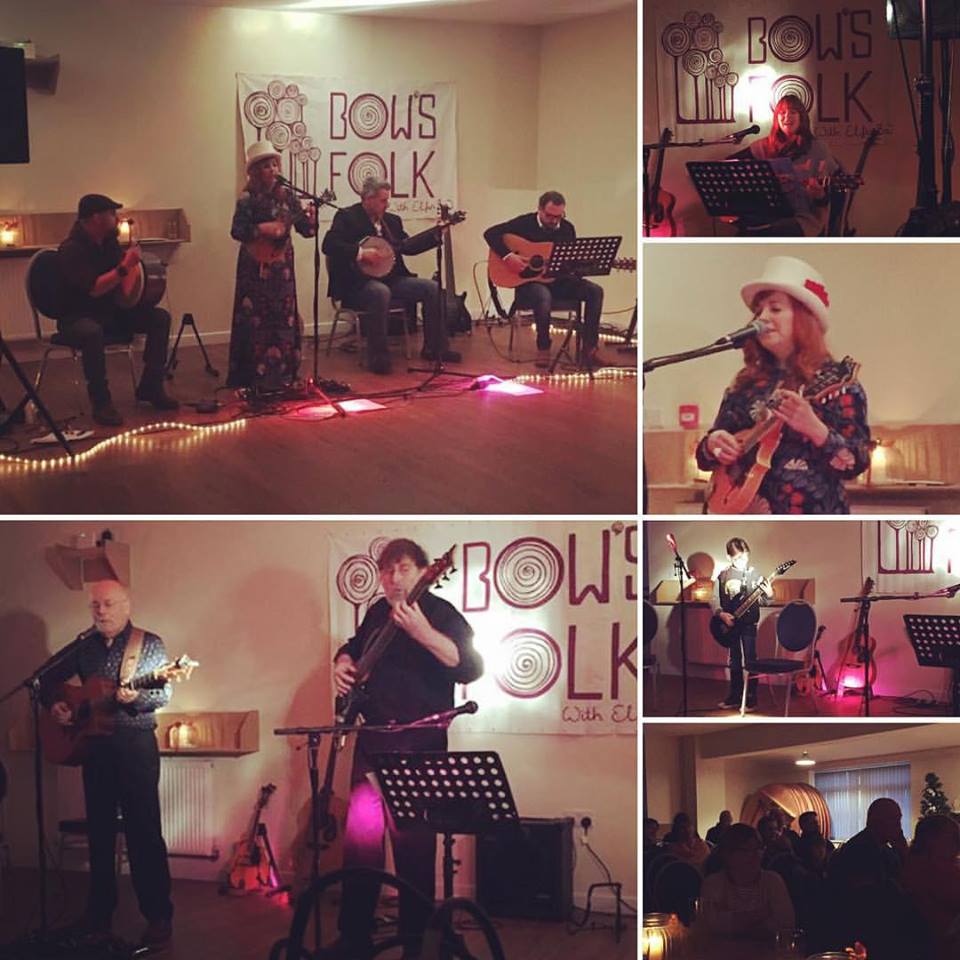 Following is a poster for the first of Elizabeth's Concert
Elizabeth Anne Jones (Elfin Bow) has just moved into Telpyn Cottage and is a very welcome addition to our village – she is very enthusiastic about Community life and if you care to have a glance at her Facebook posts you will realise that she is a real star in the field of Contemporary and Traditional Folk Music  ( See her on facebook)
This is what she wrote prior to the Concert
Bow's Folk Returns!!! I'm kicking off a new concert series of amazingly talented acts at Rhewl Pavilion, Ruthin. It's a Sunday afternoon, so why don't you and the family make a day of it? Take a stroll down the beautiful Lady Baggots Drive, have some lunch at Homewood Bound or at any of the gorgeous pubs in and around Ruthin and then hop over to Bow's Folk for a couple of hours of mesmerising music. You will be home in time to get yourself ready for the week ahead and an early night! What's not to love? Xx
RHEWL FOOTBALL CLUB's OAP XMAS PARTY
Rhewl Football Club and Rhewl School held their Annual Senior Citizens Xmas Party at Rhewl School on Wednesday December 8th.
Invitations were sent out to all known residents who qualify. The criteria for an invitation to the dinner is that  invitees will have attained the National Pensionable age   and  live in the Rhewl Football Club catchment area; their spouses can also come along even if they have not reached the  pensionable age.   If  you think that we have missed out on anyone  who should have had an invitation letter, and did not –  please contact Cath Humpoletz on 01824 704827 or 07785 785493.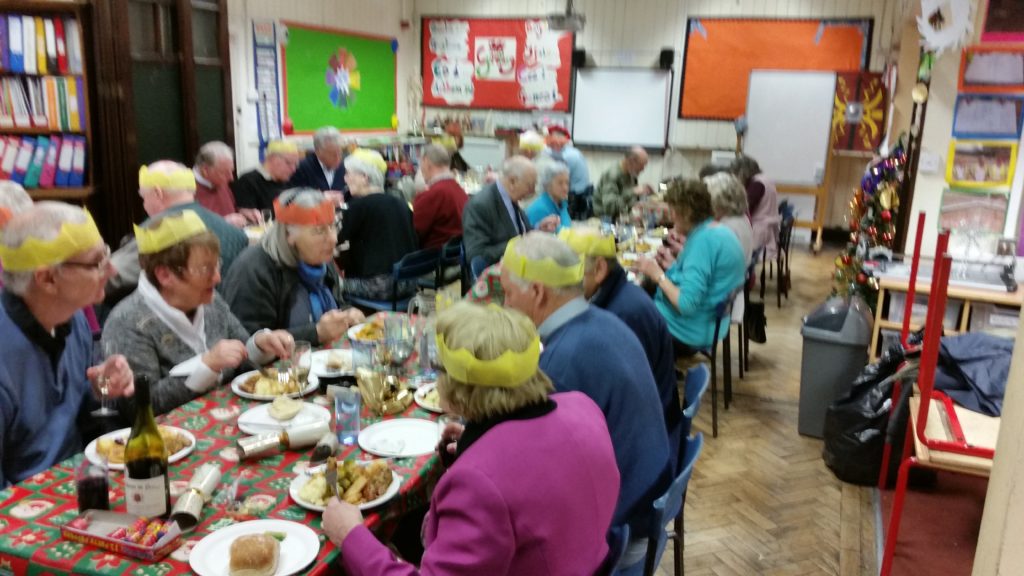 TAI CHI course
Tai Chi starting in the pavilion in the new year, please take a look at the attached poster for details.Other classes and activities are planned and details will be added when the arrangements are finalised.
 
GRAND RE-OPENING
The Party to celebrate the refurbishment of the Pavilion was a big success with over 200 guests enjoying the evening. More about the entertainment on the Porthmyn option of this website. The excellent food was provided by Jennifer Studley of Llanferres – a Rhewl girl. We hope that with the new facilities it will attract many people to hold functions to help us maintain  the building and surround.
The official opening took place on Friday November 4th  when Ian Hession and Mike Denman of the Playing Field Committee were able to officially thank the many benefactors who had helped fund the project as well as local Council dignitaries . The Committee also invited ex- Committee members and partners, wherever possible, to attend. The local tradesmen who helped to extend and refurbish the Pavilion were also thanked for their work and advice. Rhewl School pupils attended and provided some entertainment.
Rhewl Football Club were  thanked for their support from day one of the Playing Field existence; the club has worked hard to raise over £30,000 towards the Pavilion and Playing Field. The local Community Council were also thanked for their financial assistance over the years.
Llanynys Community residents were also thanked  for their generous donations  to the fund  to help buy the chairs, tables and blinds.
Denbighshire County Council Chairman Mrs Ann Davies together with Councillors Mr Merfyn Parry and Mr Huw Hilditch-Roberts and also Committee members Mr Ian Hession, Mr Mike Denman and Mr Tudor Jones at the Official opening of the new Pavilion
There are  still items such as trolleys, Broadband facilities, projector equipment  etc. to purchase to make the Pavilion a real centre of activity in the village. So we are still hoping that some of the rest of you will dig deep and help us complete the funding of this worthwhile project.
Côr y Porthmyn  donated a sum of £500 to the 'Chair' Fund.
Pavilion Bookings
All bookings for functions using the Hall must be done through Mike Denman, – 01824 702750
A whole host of events  are being organised for the Pavilion and details will follow shortly.  Some taster sessions are being organised for Musical workshops, computer classes (as soon as BT supply the connection to the Pavilion), Tai Chi classes and others.
The Pavilion are keen to fill morning and afternoon periods with events such as Senior Citizens Club, Toddlers Club, Art sessions etc. And of course anyone fancying running  such clubs will be welcomed with open arms..
Football Pitch bookings
All bookings to use the Football Pitch and Changing Rooms must be done through Ian Hession- 01824 704105
Other Pavilion News
A brand new modern kitchen with utensils and crockery has been installed as well as a fully fitted bar with bar equipment, glasses and stock. Many thanks to Halls of Holywell for their help in the latter.
New toilets have been installed  including a disabled one and a larger Female toilet. There is a new lobby leading from the front door to the centre of the building
The new floor is  finished and looks marvellous and have completed the refurbishment on time.
 The external lighting is in place and  much improved.
DEFIBRILLATOR FOR RHEWL
Congratulations and thanks to our Local County Councillor Merfyn Parry and his pal Huw Williams for completing the cycle run from Rhyl to Liverpool raise funds for a defibrillator for the village of  Rhewl , please donate through the justgiving link below or give your donation to Huw or Merfyn  thanks for your support.
https://crowdfunding.justgiving.com/Merfynandhuwon-bikes
Tony and Di Cash
Mr & Mrs Tony Cash after their holiday in Rhewl have now returned to New Zealand. They used to live in Telpyn before returning to their native New Zealand a number of years ago. They now live in the beautiful seaside town of Tauranga, North Island.
Charity Bike Ride
To celebrate her 50th birthday – Iona Jones did a Charity Bike Ride for raising funds for the Elen/Welsh Air Ambulance cause. She carried out this mammoth effort on September 25th and as she is the The Porthmyn's Choir's Treasurer they opened the batting with a £100 donation. Please  support this excellent service.
RHEWL FC
RHEWL F.C. MONTHLY DRAW
November 2017 – £100 winner was Gwynfor 'Graig'
October 2017 –  £100 winner was Clare Roberts, Llandyrnog
September 2017 – £100 winner was Mrs Dora Hughes
August 2017 –  £100 winner was Geraint Thomas
July 2017 – £100 winner was Helen Lewis
June 2017 – £100 winner was Gwynfor Graig
May 2017 – £100 winner was Hilda Lewis
April 2017 -£100 winner was John Roberts
March 2017 – £100 winner was Martin Hughes
February 2017 –  £100 winner was Eryl Owen
January 2017 – £100 winner was Brian Lewis
December 2016 –  £100 winner was Dylan Clywedog
November 2016 – £100 winner was Claire Roberts, Llandyrnog
October 2016 – £100 winner was John Roberts, Sugar Plum
September 2016 – £100 winner was Claire Roberts, Llandyrnog
August 2016 – £100 winner was Hilda Lewis, Rhewl
July 2016 – £100 winner was Wyn Thomas, Ruthin
June 2016 – £100 winner was Geraint Thomas Ruthin
May 2016 – £100 winner was Dylan 'Taff' Ruthin
April 2016 – After Choir practice the monthly Draw was held and Bov was asked to pull out the winning ball from the bag – guess whose ball it was? – his own
£100 winner was Bov
March 2016 – £100 winner was Dylan Clywedog
February 2016 – £100 winner was Tom Coley
January 2016 – £100 winner was Mark Lloyd
December 2015 –  £100 winner was Hilda Lewis
November 2015 – £100 winner was Hilda Lewis
October 2015 – £100 winner was Enid Jones
September 2015 – £100 winner was Claire Roberts Llandyrnog
August 2015 – £100 winner was Steven Mellor
July 2015 – £100 winner was Trebor Hughes
June 2015 – £100 winner was Mrs Hilda Lewis
May 2015 – £100 winner was Cath Humpoletz
April 2015 – £100 winner was Di Thomas
March 2015 – £100 winner was Ray Griffiths, Gwyl y Foel, Rhewl
February 2015 – £100 winner was Dylan Jones Clywedog Rhewl
January 2015– £100 winner was Mrs Norma Norris 6 Bro Clwyd
Anyone wishing to join this Draw please see Ian Hession or Cath Humpoletz
Another  Summer League season has finished and the  results can be found on www.summerfootball.com
CHANGING FACE OF RHEWL
Councillor Merfyn Parry took a few photos of the current developments in Rhewl and put them on facebook recently
The Church Field
 The Rhydybill Extension
The Hafodynys Field development
 
The Pavilion
 
 GWILYM JONES
Sad to hear of the passing away of Gwilym who was a Rhewl man through and through. He was stalwart of Rhewl church and a large congregation had assembled in the Chapel for his funeral service which was conducted by Rev. Russell Owen, Telpyn Forge.
XMAS CONCERT, 2015
The annual Xmas evening was held at the Pavilion on Wednesday December 16th. The evening was arranged by Rhewl School, Llanynys Playing Field Committee and Côr Y Porthmyn. It was a lovely evening and a good start to our Xmas festivities.
SENIOR CITIZENS XMAS MEAL 2015
Once again Rhewl School and Rhewl Football Club held a Senior Citizens Xmas dinner. An excellent  meal was prepared by Rhewl School cooks and those who attended enjoyed a lovely evening. Thanks to Bov, once again, providing the entertainment.
HELP BEAT CANCER
Well done to Ysgol Rhewl for hosting a special event on Rhewl Playing Field on Thursday 24th September 2015, as part of Race for Life's schools programme.
Around 50 youngsters, aged from 5 to 11 years old, took part together  with their  parents, teachers and school governors, to raise funds for Cancer Research UK's life-saving work.
Great North Run
Congratulation to Llion Davies for completing the Great North Run in a very commendable time of 2hrs 27min 03 secs  for a first timer. He was running to raise funds for that worthy cause –  Cancer Research. The Porthmyn Choir donated a £100 to his cause.
Unfortunately Llion did not get to the winners rostrum on merit on this occasion but maybe next time.
CAPEL MC y Rhewl
Plant o Capeli Rhewl, Bontuchel a Cyffylliog  wrth eu boddau yng Gymanfa  Deithiol
Llanynys Playing Field AGM
The Annual General Meeting of the Llanynys Community Playing Field Association was held on Wednesday 20th May in the Pavilion.
The Officials elected are :-   Ian Hession – Chairman; Gareth Williams – Vice Chairman;  Michael Denman – Secretary and Ellis Ashton – Treasurer.
The Officials reported on the previous 12 months and were hopeful that work would begin on the new gate and the extensions to the Pavilion  fairly shortly.
The meeting agreed to have 2 sub-groups to manage the work
(i) The Building Group – made up  of the officials + the co-opted members
(ii) The Fund raising Group
The Officials were anxious to get as many people involved as possible in the project so that progress could be make quickly to complete  the job
Cheese and Wine Evening
A Cheese and Wine evening was held  to enable the Officials to outline the plans for Pavilion and Field. It was also agreed to invite experienced locals in the Building Trade on to the Committee to help the Officials with the work.
Entrepreneurs
It is nice to hear of  entrepreneurs with local connections making their mark in this world
Bryn Williams is  the head chef and sole proprietor of Odette's Restaurant, Primrose Hill, London. He shot to fame in 2006 by beating established and well-known chefs to cook the fish course for the Queen's 80th birthday celebrations on the television programme  Great British Menu He is now widely regarded as one of Wales' best chefs and one of Britain's new crop of "celebrity" chefs. He is now undertaking an ambitious plan to open a bistro at a multi-million pounds water sports centre on Colwyn Bay promenade.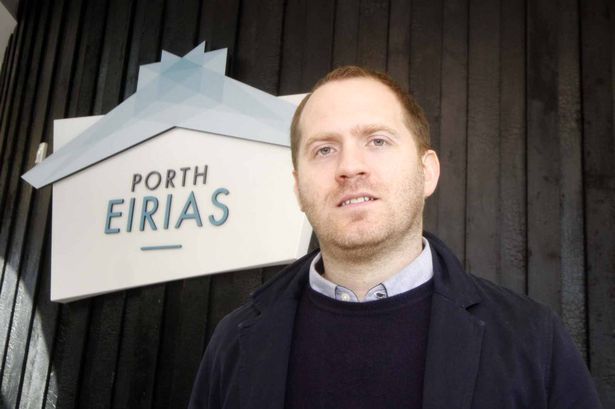 Bryn is the son of Gwenda Williams who was brought up in The Grove and who now lives in Denbigh
Adam Williams Managing Director at Tir Prince Raceway
Llandudno Pier, famed for its Victorian and Edwardian elegance, has been sold to Tir Prince leisure boss Adam Williams who has vowed to invest to ensure the pier has a bright future.
Adam is the son of Norah Williams who was brought up in the Golflinks Farm and went to Rhewl School. He is also a member of the Williams Family who had a major contribution in the development of Rhyl as a major seaside resort in the fifties and sixties. His father Billy was the prime mover in the development of the Tir Prince raceway.
Just to show that often entrepreneurship runs in families – Adam and Bryn are second cousins
——————————————————————-
Rhewl Gardening Club
The Gardening club is now well established and if you are interested please contact Mrs Jean Wallis (703954). Please click on the Gardening Option within the clubs link on the top menu to peruse the 2015 programme of events
——————————————————————————————————-
RHEWL SCHOOL'S CHRISTMAS EVENING
Rhewl School held a festive Christmas Evening in the Pavilion on Wednesday, December 10th. It was a lovely evening beginning with  headmistress Sian Hilton welcoming  everyone. Entertainment was provided by pupils of the School, the Denbighshire Training Band, Denbighshire County Band  and the Porthmyn Choir. Mr John Powell the charismatic leader of the two bands introduced the choirs explaining that the Training Band playing that evening drew on pupils from six local Primary Schools whilst the County Band drew members from further affield and where one of the best bands in the UK doing extremely well in Competitions all over the country. We would like to congratulate John and Heather Powell for the excellent work that the do for music in the region and of course the members of the two bands for providing such an excellent show..
The Pavilion was packed out for the evening with the school being used as an overspill for the bands – the extension to the Pavilion is badly needed for such an event.
—————————————————————————————-
YSGOL RHEWL SCHOOL
Rebecca Cutmore's exciting Time
Last September Rebecca joined the YWAM – Next Wave to do her Discipleship Training School (DTS) She applied last minute and to her delight and surprise she got accepted. We had two weeks to prepare for her departure, which was a day before her 18th birthday! Her journey started at Birkenhead where the ship was docked and they set sail a month later. They went down to Falmouth to get four new sails then they sailed to France, Portugal, Spain, Gibraltar and then on to Malta. The journey wasn't an easy one as they faced storms and up to 4m high waves. Fortunately Rebecca discovered she wasn't sea sick and took to the sailing fairly quickly and effortlessly. Each person took their turn in helming the ship, on a 4hour watch and 12 hours off. Rebecca adapted to her new life on the sea and immediately fell in love with her floating home as she calls it. They spent Christmas in Malta where the lecture phase of the school came to an end. On boxing day they went to Greece on their outreach phase. She is at present in Malta
Here are some of the things that Rebecca did­ in her own words
Feeding the homeless
So  I was a part of the group that went around giving food parcels to the homeless on New Year's Eve. This man who was lying in a doorway under a thin blanket was very frightened of us at first and was hiding. But when we approached him with the food he came out from under his blanket. We handed him a parcel and said Happy New Year and he very gratefully accepted. After we had. walked away, we really felt we had to go back to him, so we did and gave him 3 more! He was so appreciative and bewildered! Seeing him tearing into the parcel not able to wait for his food made myday. We had been able to bless him in a practical way. We had a short conversation with him then left. It was great to bless and love people in a practical way like this.
Sunday School
On Sunday mornings a few of us help out with Sunday school in the church we are staying with!). We go to the little room upstairs (where the boys sleep!) And play games, draw pictures and have a lot of fun! The kids are adorable, and many of us have become fast friends!
Outreach/Evangelism
On a particular  Friday in Thessaloniki we made a board with a mirror and set it up in the middle of the city square. We asked people to take a look in the mirror, and ask themselves the question 'Who are you?' When we asked people what they thought Thessaloniki needed the last week, a common answer was that Thessaloniki needs people who know who they are. We wanted to ask this question to get people thinking about their identity.
Something else exiting we are doing here is supporting a new organisation that has just started! It is called Hope Spot. They run every Saturday to provide a free fun space for youth to hang out at and play games like ping pong, uno, jungle speed, scrabble etc! A team of 5 of us go each time to help out
The Porthmyn Choir being impressed with what Rebecca has done agreed to donate a £100 towards her costs of venturing on such a adventure. More  good news is that YWAM have offered her a permanent job on the ship she sailed on.
This Web Page
Anyone from Llanynys Community area wishing to include items for this website please contact Amanda (07810 516505) or Tudor(07971 193656)
CALENDAR
A calendar of events in the village is now displaying to the right of this screen and all the dates in yellow mean that there is an event being held in the village on that day – moving your mouse over any yellow square will give a brief description  of what is being held.
If you select the 'Cor Y Porthmyn' option on the above line menu – you can hear the choir singing a couple of songs from the Llanfwrog Church concert on YouTube.
There is a new tab on the above options – History – have a look – interesting piece about a important battle between Welsh Princes in 1118 in the Rhewl station area
If anyone wants to include an item or a photo in this website please email to rhewlpf@gmail.com
If you want to book the pavilion or include an entry in the Calendar please contact Amanda Nancarrow (a_nancarrow@hotmail.com)