Sad News
I'm sorry to report the passing of a valued member of the choir namely Wyn  Jones – one of the original Choir members. He had been ill for quite a while and bore his illness bravely.  He will always be remembered for his rendition of  the song Siarabang in our Concerts and his excellent bass voice which would boom out songs from his large repertoire at the drop of a hat. We send our sincerest condolences to Hefina and his family.
 Projects
The Choir have agreed to record their first DVD  – this now looks imminent with Hamish from Melin Meredith  liaising with Bov to record our repertoire in the Chapel and then produce our DVD – watch this space.
BBC Radio Cymru – Rhaglen 'Dewch am Dro'
Braf oedd croesawu criw recordio BBC Radio Cymru i un o ymarferion y Côr – Rhys Meirion yn sgwrsio hefo Bov ac aelodau o'r cor ac yn ymuno hefo Eirlys ar cor mewn can!
Edrychwn ymlaen at wrando ar y rhaglen "Dewch am Dro" 12.30 y pnawn, Mai 18.
The choir were glad to welcome a recording crew from BBC Radio Cymru to a choir paractice – Rhys Meirion interviewed Bov and choir members and joined Eirlys and the choir in song!
Everyone who heard the programme enjoyed it – try and do a catch-up to hear it – the programme is called  "Dewch am Dro" at 12.30p.m. on May 18.
The Rhewl football fraternity were upset with Rhys Meirion when he called our building the Rhewl Cricket Pavilion and not the Rhewl Pavilion.
Elizabeth Anne Jones  (Bow Elfin  – Telpyn)
When I wrote my song, The Wisdom, I had a vision that one day I would sing it with a Welsh male voice choir. Well this is the choir and they live in my little village and guess what? I'm going to be working with them on my song! I had the pleasure of listening to their rehearsal tonight and wow, it was so emotional. I can't wait! Diolch bydysawd! Xx
The choir is looking forward to the musical arrangement of this  lovely song that Bov and Elizabeth will create.
Members
Gwilym and Brian seem to have settled nicely in the Choir; sadly Gwyn Howatson has retired. Quite a few members have suffered various ailments recently but should be back with choir shortly.
Rhewl Pavilion
The Choir unanimously agreed to donate a substantial amount to the Rhewl Pavilion 'Chair' Fund – one of the reasons for starting the choir was to help with Pavilion and Playing Field and since then members of the Choir have supported this cause as well as using the Pavilion for Practices.
 More Photos
Remember to look in at the "Cor y Porthmyn" Facebook site for information about the choir  and loads of photos.
Practices/ Ymarferiadau
Future practices will be held at the Pavilion or the Drovers. Diolch yn fawr i Capel Rhewl am adael i ni ymarfer yna pan roedd y Pafiliwn yn cael ei adnewyddu
Mae y Côr yn brysur  yn dysgu cân newydd sef Y Bugail da  – cerddoriaeth gan Bov a'r geiriau bendigedid wedi cael eu ysgrifenni gan Gwilym R Jones Dinbych.
We are also practising the  "Jar of Hearts"  song which we all think will become popular with our audiences.
Programme of Concerts / Rhaglen y Cyngerddau
Below is a list of  concerts  for the final part of 2017.
Concerts Diary
7:30pm Saturday,  November 25th – Denbigh and Flint Show – President's Dinner at the Kinmel Manor, Abergele Charity fundraiser in conjunction with Denbigh and Flint Show.- Entertainment by  Shân Cothi, Elin Fflur and the Porthmyn Choir with compere Nic Parry
Saturday November 11th – Private Birthday Party – Rhewl Pavilion The Choir was delighted to take part in the 90th Birthday celebrations of Hilda Lewis. Hilda and her late husband Jack Nelson were stalwarts of many organisations in the Rhewl and Ruthin area such as Rhewl Football Club and the Clwydian Morris Dancers.
Friday, October 20th, 2017 – St Eurgain & St Peters Church Northop
Charity Concert in aid of the Sychdyn & Alltami NSPCC
The Choir were pleased to be asked to take part in this NSPCC concert  in the beautiful Northop Parish Church. The Church was full and  the audience enjoyed the Choir as well as their fellow guests namely the Northop Silver Prize Band, Molly Evans, Lleucu Hâf Davies and a witty compere – local headmaster Mr Nigel Parry.
The performance of the Band was stunning and they are celebrating their 125th anniversary this year. Currently they are the only Championship Section band in North Wales and they proudly won first place at this summer's Sir Fôn's National Eisteddfod. The Band also did a "World Premier" of a piece called 'Bontuchel' written by band member Ioan Rees who comes from our neighbouring village up the River Clywedog. The more elderly members of the Choir thoroughly enjoyed the Band's rendition of the Beatles number "Ticket to Ride" which they based on a steam train ride.
The final word of thanks and presentations were carried out by Beth Hughes who now lives in Glan Clywedog, Rhewl,with husband John Eryl, but used to live in Sychdyn and who has been actively involved with this group for many years. Also thanks to the ladies of the Group for the lovely supper enjoyed in the Bandroom.
Dydd Sul Hydref 1af, 2017 – Cymanfa Ganu, Eglwys St Caffo, Llangaffo, Sir Fon
Cafwyd noson lwyddianus yn Eglwys Sant Caffo yn eu Cymanfa Ganu blynyddol. Canodd y Côr bedair  emyn  ac ymuno gyda'r gynulleidfa  i ganu deuddeg emyn arall. Roedd hon yn noson draddodiadol gyda llawer o gantorion lleol gwych yn ymuno yn y wledd o ganu emynau Cymraeg. Profiad hollol newydd i rai o'n hogiau  ni.
Rhanwyd y llwyfan gyda Steffan Lloyd Owen – Bariton ifanc addawol o Gaerwen.
Rydym yn ddiolchgar iawn i merched yr Eglwys am y swper swmpus a mwynhawyd cyn  droi am adre, yn hwyr nos Sul.
Saturday September 9th, 2017 – St Peter's Church, Ruthin (raising funds for the Church roof)
The choir was delighted to accept an invitation to hold a concert at St Peter's Church to help raise funds for the restoration of Church's Roof. The audience was substantial and very appreciative which they displayed by giving the choir a standing ovation at the end of the evening. About a third of the choir were not able to attend – for a variety of reasons which made Bov and his choir's performance even more remarkable.
Saturday, August 19th, 2017 – Ruthin Flower Show
This was our fourth invitation to sing at the Flower show and the most enjoyable. We sang in the Big Hall of the Farmers Auction with excellent audiences for both our sessions.
Friday 21st July – Graigaid
It was a great disappointment for the Organisers, Artistes and Spectators that the weather was so awful, however the show carried on  – we just hope that GraigAid made some money for their Charities.
Friday, May 19th 2017 – WI at Broughton Church
This was the third  occasion that the choir had  been invited to take part in a concert at this beautiful church and it was a lovely occasion with the choir and the soloists on form and the  audience very appreciative of our efforts.
Monday Bank Holiday May 1st, 2017 – Wedding at Llanfwrog Church
The Choir was delighted to sing at Emma and Mark's wedding at the beautiful Llanfwrog church. The Choir sang a very suitable love song, Oh I would walk a thousand miles just to be with you, as the bride entered the church – the video of this rendition has received a large number of plays on the Y Porthmyn facebook page.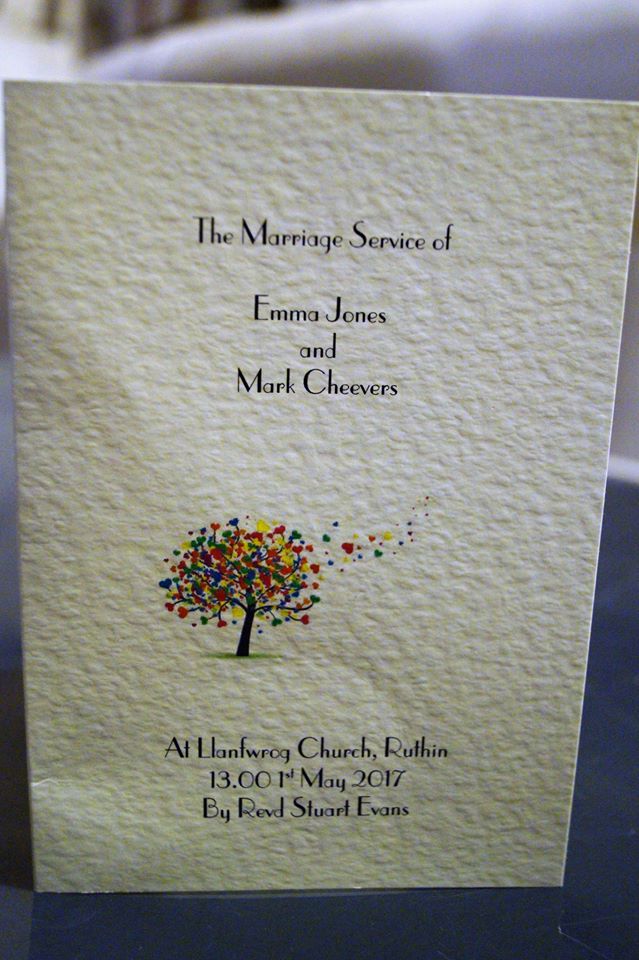 The choir were very grateful for the generous donation to our charity coffers.
Good Friday, April 14th, 2017 – Capel Tabernacl, Ruthin -Mayor's Charity Concert
This was a high class concert and the choir enjoyed singing in this beautiful chapel for the first time. The soloists were Rhys Meirion, Eleri Woolford, Joe Woolford and the mayor himself – Geraint with a rendition of Haleliwia
Saturday, April 1st, 2017 – The Dennis Hession Memorial Evening at the Pavilion, Rhewl
The choir took part in a memorial evening for the life of the late Dennis Hession who was a likeable character who worked for Jones Brothers all his working life. Many of his ex-colleagues attended together with members of his family. The proceeds of the evening went to the local branch of First Responders Wales and also for the purchase of defibrillators.
Thursday, March 9th, 2017 – St David's evening  – Trefnant
The choir provided the entertainment at Trefnant WI's  St. David's Day celebration at the Village Hall. A sizeable audience had gathered, which included the odd husband,  and they enjoyed a lovely evening. A mention must be made of the supper which was of a  typical WI high quality.
Most of the choir had not been to the Hall before and were very impressed with its spaciousness and acoustics.
Saturday, March 4th, 2017 – St Mary's Church Cyffylliog
Choir member Marc and wife  Eirian, Wern Neidr,  organised this concert to raise funds for maintaining their church and it was our third visit to this lovely building. As you see from the above photo the Church was 'nicely' full and there was a lovely atmosphere. The choir sang our new song " Y Bugail Dda" for the first time in concert and Bov was reasonably(?) happy with our rendition.
Supper was served in the Red Lion and the evening finished with Bov getting his guitar out to accompany the songsters until the early hours.
An interesting statistic was mentioned – that this was the Choir's hundredth concert – Crikey!!!!!
Saturday, February  18th 2017, Pwllglas Village Hall – Motor Neurone charity
When Choir member Dewi Jones asked his fellow members if they were willing to take part in a musical evening  to raise funds for the Motor Neurone  charity organised by his daughter Non for her friends – the choir were more than willing to participate. Dewi lost his wife Betty, and Non her mother, to this cruel disease.
The choir has a new member singing for the first time with the choir in concert – the dark blue shirt is a giveaway – croeso i  Gwilym Meirion.
The evening was very successful with over a £1000 being raised for the Charity.
The choir sang first and then went on to the The Fox and Hounds pub in the village Pwllglas to enjoy their supper. The audience remained in the hall to participate in some Country Dancing organised by Non.
Saturday, February 11th 2017 – Ruthin Conservative Club
A packed audience in the upstairs room of the Club enjoyed the Choir singing all their old favourites. It was nostalgic evening for the Choir  as they had held their first ever concert at this location 6 years previous; it was supposed to be a one-off concert to raise money  for the Rhewl Pavilion.  It is nice to report that both the Choir and the Pavilion are going from strength to strength