Projects
The Choir have agreed to record their first DVD in the near future – I don't think it will be this year – maybe next – details to follow.
I think the Spanish trip has falling through but there is a rumour about that we might go to Briec in France with Ruthin's Twinning Committee as part of the annual activities between the two towns for 2017 – watch this space.
Rhewl Pavilion
The Choir unanimously agreed to donate a substantial amount to the Rhewl Pavilion 'Chair' Fund – one of the reasons for starting the choir was to help with Pavilion and Playing Field and since then members of the Choir have supported this cause as well as using the Pavilion for Practices.
Good Causes
I ddathlu  ei phenblwydd yn pum deg oed mae Iona Jones wedi penderfynu i fynd ar chefn ei beic am 50 milltir ar Medi yr 25fed. Mae Iona, wrth gwrs, yn trysorydd Cor y Porthmyn ag ar ol ymarfer nos Fawrth dwaethaf cytunwyd yr aelodau cynnig cant o bunnoedd i'r achos sef Cronfa Elen/Ambiwlans Awyr Cymru
Cancer Bike Run
The Choir agreed to contribute £100 to sponsor Tracy Ashton(Ellis wife and Medwyn's daughter) on her nocturnal bicycle ride along the Llangollen canal to raise funds for the Cancer Research charity.
Da iawn Tomos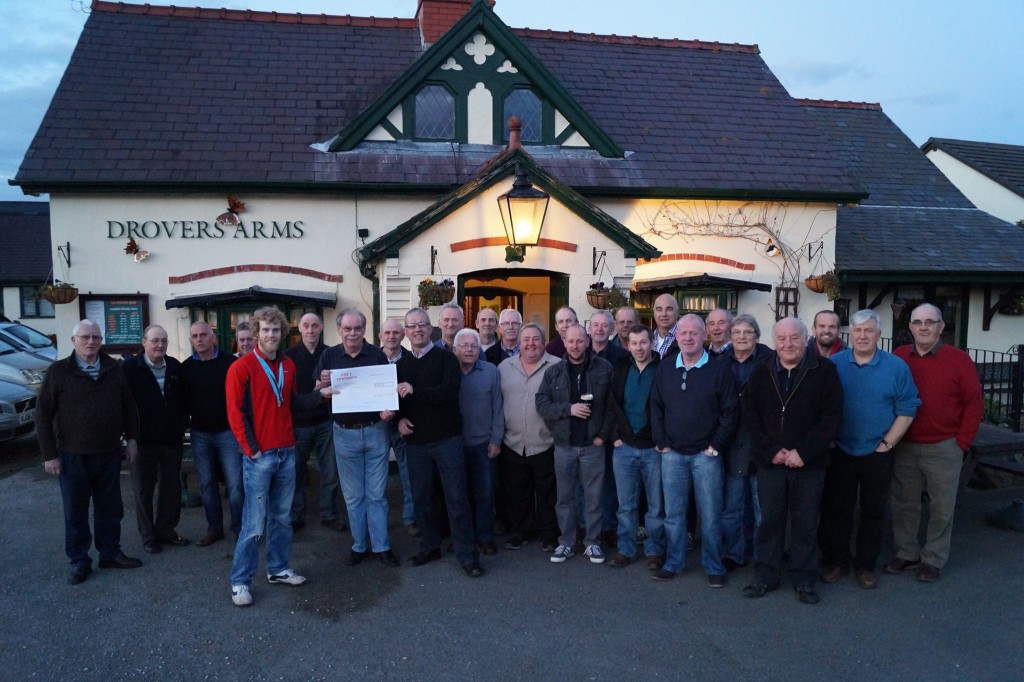 The choir was delighted to sponsor Tomos Jones, son of choir member John Jones, in his recent Sports Relief Swimathon. Tomos, 28, of Trefnant, completed the 10k swim in two hours, 45 minutes and one second! He received his sponsorship cheque from Bov Owen and Mike Denman on behalf of the choir. He was able to show choir members his medals. Tomos, a safeguarding administrative assistant with Conwy Council, completed the swimathon over two days, doing two 5k swims at Abergele Swimming Pool
More Photos
Remember to look in at the "Cor y Porthmyn" Facebook site for information about the choir  and loads of comments and  more photos.
Practices/ Ymarferiadau
Future practices will be held at the Pavilion or the Drovers. Diolch yn fawr i Capel Rhewl am adael i ni ymarfer yna pan roedd y Pafiliwn yn cael ei adnewyddu
Mae y Côr yn brysur  yn dysgu cân newydd sef Y Bugail da  – cerddoriaeth gan Bov a'r geiriau gan Gwilym R Jones.
Programme of Concerts / Rhaglen y Cyngerddau
2016 has been a very successful  year for the choir, particularly in terms of the or the number of concerts that the choir a have been involved in and we are all very grateful for the interest showed in our choir.
Concerts Diary
Saturday December 31st, 2016    Iona's Birthday
Iona, our Treasurer, held a party at the Pavilion  on New Years Eve to celebrate an important birthday. As well as her other guests she invited choir members to help her celebrate. A fantastic evening was enjoyed by all.
Friday December 16th, 2016 – Welsh night at the Clwyd Gate Inn with Rhys Meirion
NOSON FAWREDDOG 
gyda
Rhys Meirion, Sioned Terry
Cor y Porthmyn
Elan ac Erin Meirion
Twm Tegid
Elw y raffle at Gronfa Elen

Wednesday December 14th, 2016
A Christmas evening will be held at the Pavilion starting at 6pm on 14th  December. The Rhewl School Choir and the Porthmyn Choir will be providing the entertainment and the School's PTA are providing seasonal refreshments.
December 2nd, 2016 – Denbigh Golf Club
Our second visit within the year to Denbigh Golf Club was a  lovely Xmas evening with the members and everyone enjoyed an excellent Xmas Dinner. The choir had an excellent turnout considering the time of the year and the many cold bugs which are about.
November 29th, 2016 – An evening at Awelon 
A Tuesday night concert at Awelon had members of the choir meeting many old friends and enjoying another pleasant evening.
November 4th, 2016 – Ysbyty Ifan (elw tuag at y Neuadd)
Noson rhagorol yn Neuadd y Pentref – Ysbyty Ifan; – elw y noson yn mynd tuag at y Neuadd newydd y Pentre. Diolch yn fawr i Eirian Gwern Hywel Uchaf am y gwahoddiad a hefyd diolch i  Sian Ellis am ei geiriau caredig ar diwedd y noson. Oedd pawb yn y Côr wedi mwynhau y swper  bendigedig o Cwn Poeth(dewis da ar noson aefol) ag ambell o ddarn tarten afal – cant allan 0 gant i Eleri ar gennod.
Diolch yn fawr i Pwyllgor Y Neuadd am y croeso ar cyfraniad i'n coffrau.
Disgrifiad y  Noson yn papur Bro yr Odyn – Croesawodd Alun Bryniau Defaid, Côr Y Porthmyn atom i'n diddori. Mae y Côr yma yn canu caneuon poblogaidd ysgafn sydd yn apelio at pob oed ac mae yn werth troi allan i'w clywed. Cawsom wledd o wahanol ganeuon ganddynt. Daeth y côr yma i helpu codi arian at y Neuadd. Mwynhaodd pawb fwyd tymhorol â chyngerdd gwych.
Saturday October 29th  – Opening of the refurbished Rhewl Pavilion.
This particular concert was very close to the Choir's heart particularly as the Officials, and others,  of the Playing Field Committee  were Choir members.
It had been 5 years since the choir took part in their ever first concert at the Ruthin Conservative Club – Bov came up with the idea of replicating this first concert with the same songs and artistes. John Sellers, Olga from Cerrig, John Price and John Gwynedd were duly invited to take part. However there was a surprise item which Bov had been plotting for a few months – he formed a Ladies choir called Y Cathod Poeth made up of wives/ partners of members of the Porthmyn choir,  these ladies must have been very sly because their hubbies had no idea of what was going on. Bov taught them to sing the choir's old fauvorite –  Siarabang; it was of course a Surprise Surprise shock  and the evening ended with both choirs singing the song together – what a noise!
Tuesday October 4th , 2016 – Bethesda Chapel, Mold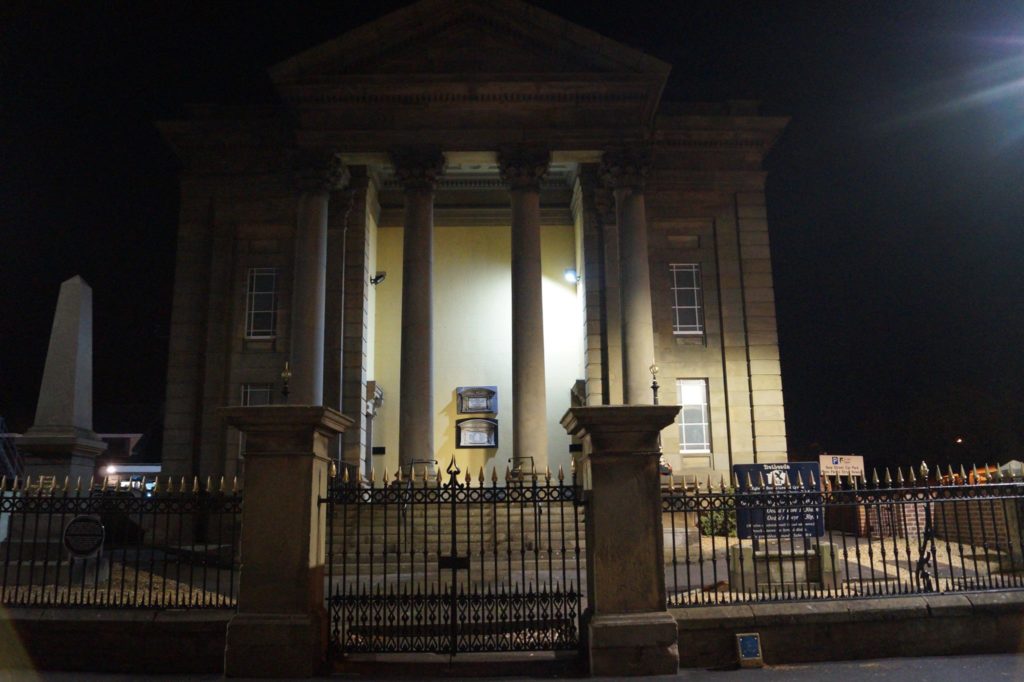 The choir were delighted to accept an invitation from Cwch Gwenyn – the Ladies Group of Bethesda Chapel to open their programme of events for the coming winter. Many thanks to choir member and Bethesda chapel member Ieuan for helping to arrange the evening.
The choir were very impressed with the well appointed Chapel and Vestry and they thoroughly enjoyed the evening and  the lovely supper. Older ex- Brynhyfryd pupils were delighted to meet their old Geography Teacher – Aled Lloyd Davies – looking so well.
Also in the audience was Marc Wilson Jones who was born and bred in Rhewl – son of the late Elwyn who was the Rhewl School headmaster for a number of years and a Stalwart of Rhewl Playing Field Committee. Marc is now Headmaster of Ysgol Pen Barras, Ruthin and together with his brother Robin is a member of the Ruthin Choir.
Diolch yn fawr i Merched y Capel am ei cyfraniad i'n coffrau.
Saturday 1st October, 2016 – Bryneglwys Church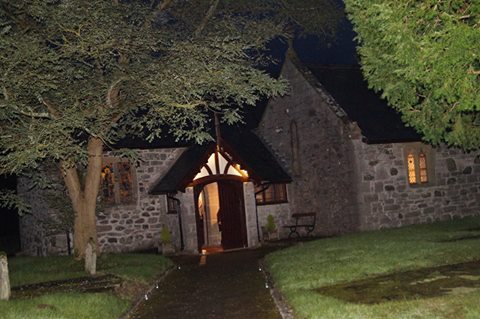 This famous church ( it is historically associated with Yale University in the US) was beautifully decorated for Harvest Thanksgiving Services due to be held in the following week. The Choir and their soloists once again enjoyed singing in this church with excellent acoustics and appreciative audience. The supper was held in the Church Hall and was excellent – many thanks to the Ladies of the Church for their hard work and also the  donation to our funds.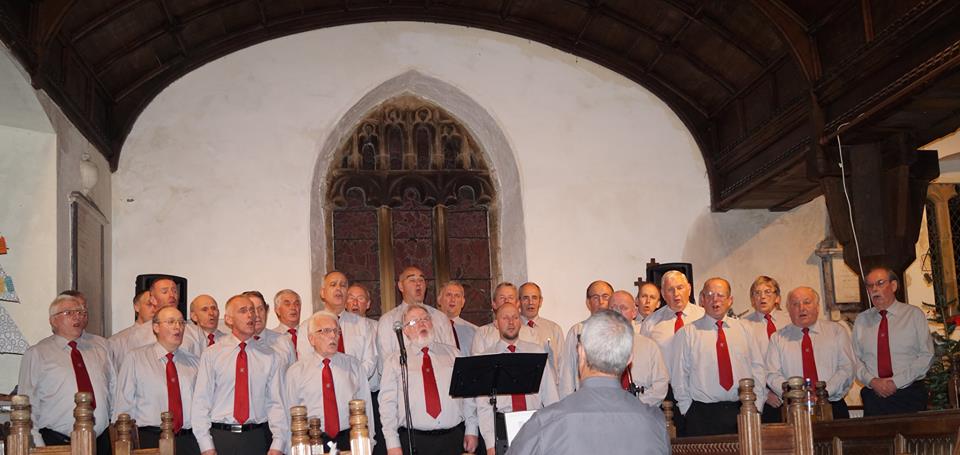 Saturday 3rd September, 2016  Gwyl Pen Draw Byd , Aberdaron
Even though the weather was atrocious the choir enjoyed another weekend at this lovely seaside village. It was not the occasion to sing Calm is the Sea or possibly Let it Rain
Saturday 20th, August 2016 – Ruthin Flower Show
The Choir were delighted to be able to support the Ruthin Show Society and  perform at their Flower Show at the Llanfwrog Community Centre. This was the third appearance of the choir at the show over the years and everyone  was impressed with the acoustics of the Hall at the Centre. Even  though the weather was  dreadful, Bov was delighted with the number of choir members who had turned out during this main Holiday period.
Friday 22nd July  2016 – Craigaid at Graigfechan
A good number of the choir turned up to support the wonderful Graigaid Charity event at the Three Pigeons Graigfechan  – we hope they raised lots of money for their charities
Sunday, July 22nd, 2016 – Taking part in the Civic Service for the new Mayor of Ruthin  at at St Peters Church. The new mayor is of course choir  member – Geraint Woolford –  so the choir were especially delighted to accept the invitation to take part in the service (for the second year in succession).
Quote from Geraint's Blog          Lovely day today in My Civic Service. Thank You to The Rev Stuart Evans for a lovely service. Special thanks to Bov, Eirlys and Y Porthmyn for a magnificent performance Diolch yn fawr ………..
Saturday, June 25th 2016 – Denbigh Carnival
This was a well attended event to raise money for local charities and the Choir enjoyed a very pleasant afternoon in the sun as the following photos show
Elwyn has caught the actions of Kerfoot taking a shortcut – beautifully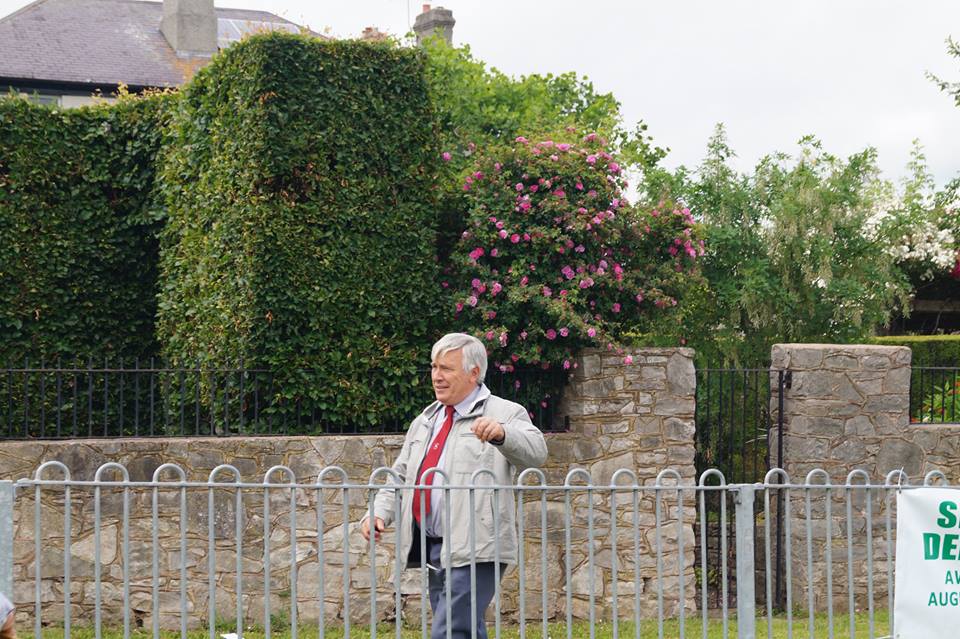 Saturday, June 11th 2016 – Liverpool Welsh Society, Liverpool
Roedd y Côr wedi edrych ymlaen at y Cyngerdd yma yng nghanol De Lerpwl ers misoedd. Cynhaliwyd y Cyngerdd yng Nghapel Elm Drive sydd dim yn bell iawn o ble oedd safle Capel Cymraeg Bethel, Heathfield Road; hefyd roedd y rhai hyn o'r côr yn dotio ei fod wrth 'Penny Lane'(Y Beatles) . Roedd y Capel yn enfawr ac yn lle da i ganu. Croesawyd y Côr gan yr Athro D Ben Rees – dyn galluog a gweithgar dros yr Iaith Gymraeg yn Lerpwl a hefyd Cymru.
Bov and the Choir had been looking forward to this engagement for months and we were not disappointed. The concert was held in the Elm Street Chapel a fantastic building not far from the site of the famous Bethel Welsh Chapel which has been sadly demolished. Those older members of the choir were tickled by the fact that the World renowned Penny Lane was next door to the Chapel. The Choir was welcomed by Professor D. Ben Rees a stalwart of the Welsh Language on Merseyside and Wales.
It was a very special evening in more ways than one for us, with Wales beating Slovakia and England drawing with Russia – we were in good form that night
Isod mae yna luniau or noson bendigedig yma
Rhan o newyddion yn y Papur Cymry Glannau Mersi a Manceinion, sef Yr Angor, am y Cyngerdd a oedd yn rhan o Wyl i ddathlu bywyd a gwaith David Roberts a'i ddisgynyddion   ……..Yn yr hwyr bu cyngerdd byth gofiadwy yng nghapel Elm Hall Drive  gyda Côr y Porthmyn o ardal y Rhewl ger Rhuthun. Dan arweiniad Erfyl Owen, cyflwynwyd y rhaglen gan Gwynfor Jones chafwyd unawdau gan John Jones, Geraint Evans, John Thomas, Wyn Jones, Brian Hughes a Eirlys Jones…….
 Saturday, May 21st Nercwys Festival 
The fourth Nercwys Music Festival was on private land at Five Acre off Ffordd Plas Ucha. Phil Gerrard, organiser of the event, held the first festival in 2010 to raise money for the community and for charity and has generated more than £9,000 in previous years. The British Heart Foundation will be the main beneficiary of this year's event.
Bov and the Choir  members were delighted to be invited to sing at this prestigious festival following in the footsteps of  artistes like Côr Glanaethwy. This charity event was very well supported by over forty sponsors and a good sized crowd for a cold May evening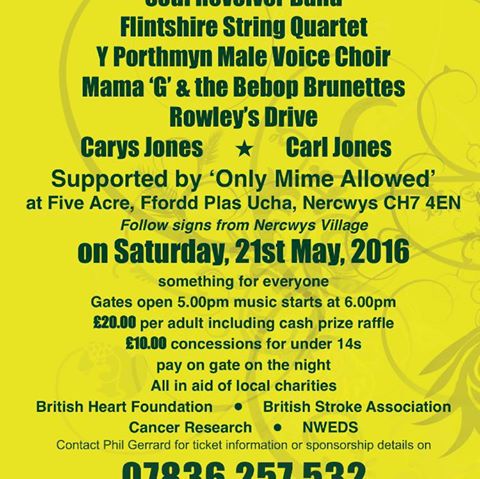 A very enthusiastic audience gave the choir good support
The general scene  outside the Shed at the Five Acre site in Nercwys
Friday April 22nd 2016 – Cae Cymro Clawddnewydd – in aid of Broadgreen and Glan Clwyd hospitals
This was a very successful concert held to raise funds for the Glan Clwyd and Broadgreen hospitals organised by Gwynfor Jones. Glyn Owens was the Perfect 'Master of Ceremonies' and excellent performances from the guests singers namely  Sioned Wyn Dolgellau, Meirion Jones Llangynhafal and ex choir member John Price. The latest news is that over £2200 was raised.
Below is a photo of the Choir watching the handing out of gifts to the Guest artistes at the end of the Concert.
Friday , April 1st 2016 – Llanfair DC in Neuadd Eleanor
The concert was held in Neuadd Eleanor which sits alongside the church and the White Horse Inn in the centre of Llanfair Village.
Here is a history of the hall – Neuadd Eleanor is named after Eleanor Clare Jones-Mortimer. Eleanor was born Eleanor Hippisley at Ston Easton in Somerset in October 1874. She married Cuthbert Bevan Jones-Mortimer in April 1903. After her marriage she lived at Bryn Eisteddfod, in the Conway valley and at Wygfair in St Asaph where she died in October 1927 aged 53
The Archbishop of Wales conducted her funeral and she was buried in Llanfair . Her husband then moved to Plas Newydd and built Neuadd Eleanor in memory of his wife.  On the death of Maurice in 2007 the family gave the funeral donations to the village hall. This money was put towards the costs of upgrading the surrounds of the hall; the work was completed the same year.
The Choir was impressed by number of people who attended and over £1000 was raised for the upkeep of this noble building. The choir would like to thank the Village Hall Committee for their generous donation.
Bov was reasonably happy with the Choir's rendition of their latest song – "Mae deisiau di bob awr" (First time for the choir in public)
Thursday, March 24th, 2016  Hefin and Anna Davies's Golden Wedding Party
The choir were delighted to accept an invitation to sing in Hefin and Anna's party  at the Clwyd Gate Inn. Hefin was brought up in Rhewl and Anna  is a member of the renowned Edwards' family from Ruthin. Bov  chose to  include, in the choir's programme for the evening, a love song  called  I  would walk One Thousand miles which the choir agreed was appropriate for evening. As well as supplying a delicious supper to all the choir members, Hefin and Anna have generously donated a substantial amount to Choir funds.
 Friday, March 4th 2016 – Penyffordd  WI
The Choir took part in a concert in Penyffordd Institute held by the local WI branch in aid of the Cancer Research Trust. An appreciative audience also enjoyed the excellent performance of  the local Primary School children. The Choir received a thank you letter from the Penyffordd WI and  were very pleased to hear that over £600 had been raised for their charity.
Saturday,February 27th 2016 – Ruthin Conservative Club – St David concert
The Choir has been in existence for 5 years(nearly to the day) and their very first concert was at the Club when they only knew 3 songs which they sang twice to stretch the evening. This was their fourth concert at the Club and everyone enjoyed themselves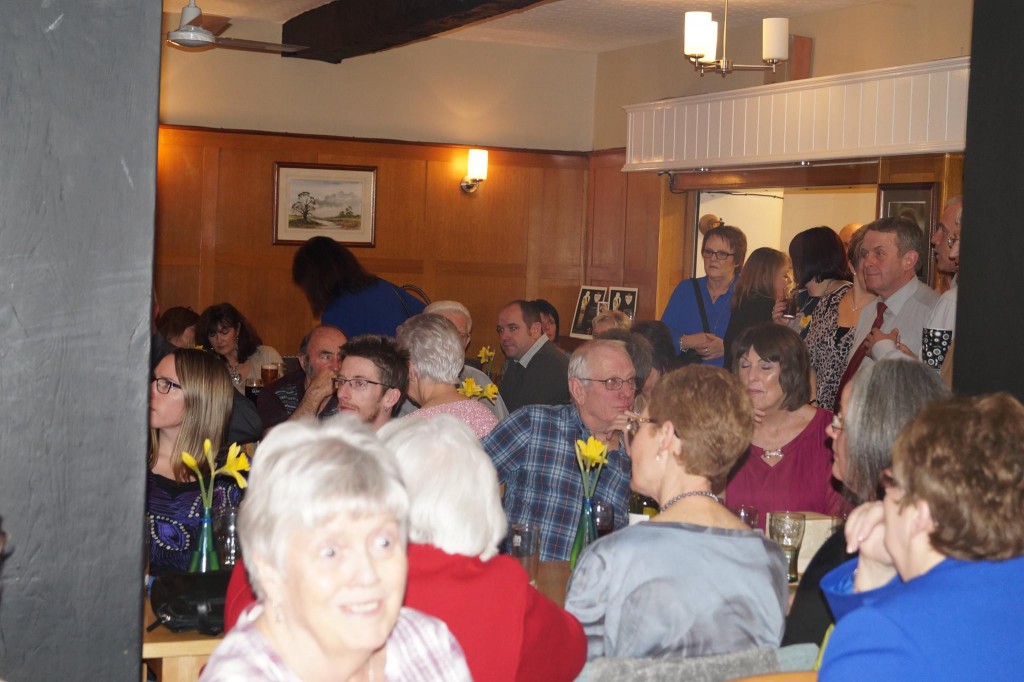 Friday, February 19th, 2016 -Jenny Studley's Retirement Party at the Clwyd Gate
A very enjoyable evening was enjoyed by all to celebrate the occasion when Rhewl girl Jenny Studley (neeHession)  decided to hang up her truncheon and become a full time Farmers wife at Plymog. Brother Ian and the choir were delighted to provide the evening's entertainment at the Clwyd Gate Restaurant
Polo Shirts
It has been agreed that suitable  Polo Shirts be  acquired for wear by the choir – the design of the shirts is to be decided. They might be ready for Xmas .   (2016??)
Spanish trip
The planned trip to Spain has been put on hold until 2017.